See You At the Pole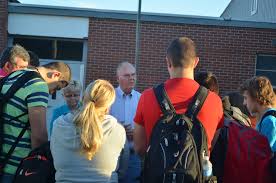 Whitney Herring, Messenger Reporter
September 4, 2016
September 2016
Co-Author: Ema VanDyke
On April 6th, 1990, ten students from Burleson, Texas decided to go to three different schools in order to pray around flagpoles with and for their fellow classmates. By June, a group of 20,000 came together in Dallas for a morning of prayer. After many years, See You At The Pole became a global phenomenon. This movement was and still is student initiated and student led. With this event being student led, it is protected by the 1st Amendment rights of freedom of religion, and expression, although some officials thought it violated the Establishment Clause, a clause in the First Amendment that says we cannot favor one religion over the other, it was later found to be within the rights of the people. However, laws pertaining to elementary and middle schoolers and even teachers have been put in place. Parents/guardians must give permission for their child to participate in the program and, though teachers can attend, it must be outside school hours. Teachers also have to be neutral on the subject, never encouraging or discouraging participation.
See You At The Pole occurs on September 28th at 7:00 a.m. locally around the school flagpole. This event is a simple prayer rally, not a political rally, and is completely optional to the students. The reason for this occasion is to lift up friends, families, teachers, schools, and nation to God. The founders of See You At The Pole hoped to create a launching pad for students to become missionaries on their campus. Nearly 30 million students annually attend this gathering.
McCracken County High School celebrates See You At The Pole on September 28th around the mustang statues at 7:00 a.m.  Barton Christmas is one of the student organizers at MCHS. He says: "A worship band will kick off the morning for God. Several students will be praying for the school, the day, the year, so on and so forth, and everyone is encouraged to attend!" If this year is anything like last year's event, it will be a big hit, and McCracken County High School is proud to take part in it! We hope to See You at the Pole!