Fantastic Beasts and Where to Find Them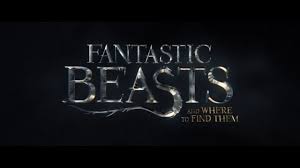 Rachel Bell, Messenger Reporter
December 4, 2016
November 27, 2016
WARNING: While the author has taken painstaking efforts to leave this review spoiler-free, the definition of a "spoiler" is subjective, and everyone has different thoughts and opinions on this. Please read at your own risk.
Aren't we lucky to live in a world where J.K. Rowling writes screenplays now? The Harry Potter author is writing for the next film series that takes place in the wizarding world. Fantastic Beasts and Where to Find Them came out on November 18, 2016, and made $75 million on its opening weekend, and that number is only growing. While the film's success is mainly due to its ties to Harry Potter, it's a fantastic (sorry) movie in its own right.
Fantastic Beasts starts with famed magizoologist Newt Scamander (Eddie Redmayne) arriving in New York with a briefcase full of magical creatures in the 1920s. Anti-wizard sentiment among no-majs (the American word for Muggles, or non-magical people) is rising due to an evil wizard terrorizing New York. The Second Salemers are the most influential of the anti-magic activists. Some of Newt's creatures escape, so he has to enlist the help of an ambitious no-maj named Jacob Kowalski (Dan Fogler), a no-nonsense former Auror for the Magical Congress of the United States of America named Tina Goldstein (Katherine Waterson), and her bubbly sister Queenie (Alison Sudol). Meanwhile, Percival Graves (Colin Farrell), Head Auror of the MACUSA, is secretly working with Credence Barebone (Ezra Miller), the adopted son of the leader of the Second Salemers, to find a child with a sinister power.
This is one of those rare movies that has both good writing, and good acting. In his interviews, Eddie Redmayne (who is an Oscar winner himself) praised the way that Rowling wrote the script in a very descriptive, narrative fashion. Redmayne shines as the introverted, awkward Newt, but Ezra Miller truly steals the show. Credence is a troubled, quiet young man, which is a total 180 from Miller's other famous role as Patrick in The Perks of Being a Wallflower. He plays Credence sympathetically, and really takes advantage of how interesting his character is. Jacob's ignorance to the wizarding world makes him the comic relief, but he's also a dynamic and funny character without being annoying. Tina takes a while to warm up to, but her friendship with Newt makes her likeable. Alison Sudol plays the excitable, flapper-girl type Queenie perfectly.
James Newton Howard of The Hunger Games and Batman fame composed the music, which pays homage to the Harry Potter score, but has its own unique elements. The costumes were accurate for a period piece, if slightly bland, save for Queenie's wardrobe and the President of the MACUSA's dresses. The film makes use of CGI quite often for the creatures, but it's well-done and not distracting. The first scene inside the briefcase is mesmerising and beautiful, and the special effects during the climax are truly groundbreaking.
In conclusion, Fantastic Beasts and Where to Find Them is a great movie, both as an add-on to Harry Potter and in its own right. Rachel Reviews has followed Eddie Redmayne's career for several years now, and is happy to see him becoming a household name. J.K. Rowling has confirmed that this will be a series of five movies, and Newt will be in the forefront of all of them. Fantastic Beasts is rated PG-13 for "some fantasy action violence".