See This Show: Little Shop of Horrors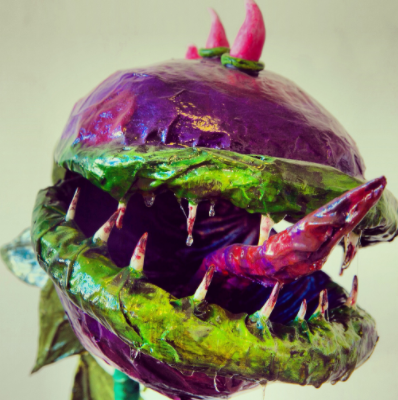 Lauren Wildoner, Messenger Reporter & Artwork Coordinator
October 5, 2016
On October 27th, 28th, 29th, and 30th, MainStage School of Performing Arts will produce the Off-Broadway musical Little Shop of Horrors. This musical follows the story of the meek Seymour Krelborn, an orphan adopted by Mr. Mushnik. He works alongside his hopeless love Audrey in Mushnik's Skid Row Florist. When Seymour stumbles a new breed of plant, he feeds it something out of the ordinary and its growth brings fame and fortune to Seymour's previously dull life. The plant promises to keep delivering only if Seymour will feed it, but that comes with dangerous consequences.
I interviewed Connor Tilford, senior at McCracken and Orin Scrivello in Little Shop.
Q: What is your role in the show and how does it contribute to the plot?
"I am the first antagonist of the show. My character is an abusive dentist who chooses to be evil unlike another character in the show. As a dentist in the 60's, I enjoy human pain and suffering. I am the catalyst of the show's exposition."
Q: What makes this show different/why should you come see this show?
"This show offers something for everyone; whether it's the romantic storyline, the dentist's comedic timing, and most importantly the thrill factor of Audrey 2 just in time for Halloween."
Q: What's your favorite aspect of this show? (technically or ect.)
"I quite enjoy the functionality of the puppet Audrey 2. When you think puppet, you think 3 year old show in your living room, but the one we use costed over $1,000. It's exceptional in size. There are four different puppets and each one is intricate in their own way. The largest and final puppet requires four people to function. It's hard to describe; it's something you have to see."
Q: In your opinion, what's the best night to come?
"Every showing is different, filled with different people who have had different days, but as an actor my favorite showing would have to be a Friday night because the weekend has just arrived, the audience doesn't have to worry about work or school, and they are able to escape the outside world and focus on the amazing art being performed on stage. Little Shop of Horrors is no different. Just in time for Halloween, this production is sure to wow any audience every single showing."
Q: What's your favorite line?
"Ya dizzy cow"
Other McCracken students you may know in this show are Laney Yancey, Trey Pullen, Jake Mitchell, Amanda Handegan, Hope Eason, Jessie Elliott, Raegan Archer, Mary Baker, and myself!
Tickets to this show are selling quickly, so buy yours ASAP at mymainstageschool.com or see any MainStage student. We hope to see you there and remember: DON'T FEED THE PLANTS.