La La Land Review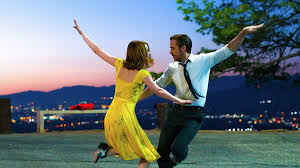 Luke Resser, Messenger Reporter
March 3, 2017
The first time I saw the trailer for this film was before any reviews had come in and to me, it seemed like a pretty forgettable film. Then very favorable reviews flooded in and they definitely surprised me, after all, staying in the high 90s percentage on metacritic.com is no easy feat. When the Golden Globes finally rolled around, La La Land broke the record for the most awards won. That's when I knew I had to see it. But the biggest question is, does the film live up to all of the hype? My answer: it definitely does. Even if you're not one for musicals or romance like myself, La La Land is something all its own. The film tells the story of a jazz pianist, Sebastian, and an actress, Mia, who fall in love. The music, dancing, and surreal visuals amount to a film unlike anything I've ever seen.
La La Land is a great film for many reasons. One of the things that caught my attention was that the whole film existed in its own realm. Sometimes the film was grounded and realistic while at other times there were beautiful fantasy sequences. An important part of the film that you can't miss is the amazing music. Songs like City of Stars and Another Day of Sun are accompanied with spectacular dance numbers. Usually in musicals, the singing comes off as awkward and forced yet it felt very natural in La La Land. Another thing about this film that really amazed me was the acting, from Emma Stone in particular. I've never really paid much attention to Emma Stone. She's been in some good films but her performances never really stood out to me. In La La Land, however, she blew my mind with her heartfelt acting. The film made me pay more attention to her and realize that she has done great in other films such as Birdman. The director of this film, Damien Chazelle, did an excellent job of blending the musical numbers in this film with the realism of the darker scenes. As the film builds, spoiler alert, the relationship between Sebastian and Mia falls apart as a result of the two both having dreams that they must follow. Then the film skips ahead five years and shows Mia with another man. The way in which this scene was presented was heartbreaking, as Mia comes home and kisses someone who isn't Sebastian. Also, the surreal scene at the end of the film showing what their lives could've been like if they stayed together was equally sad and beautiful. Another thing La La Land does great is the way it portrays Hollywood. The film praises the city and the grand lifestyle of the elements. But at other time, it shows the darker side. The main characters moved to the city in pursuit of their dreams and had to sacrifice the one they loved to accomplish their goals. My only complaint with the film was that the story was a little bit generic. Some scenes were very predictable. I'm sure most people saw it coming when the couple began to problems as they pursued their dreams. Yet, the film is carried by great performances and spectacular music numbers which cements it as one of the best films of 2016.
La La Land has 14 Oscar nominations. The only other films with that many are Titanic and All About Eve. Titanic currently holds the most Oscars with 11, but will La La Land beat it? Probably not, but it's a great film regardless. La La Land is one of the most memorable cinematic experiences that I've seen in a long time. The film works on almost every level that it operates on and is enjoyable for everyone, so don't miss it if you don't like musicals or romances. I will definitely be looking out for what else Damien Chazelle has planned.
4.5/5