Midtown is Growing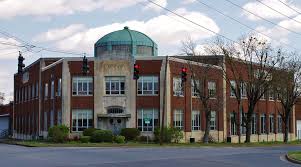 Kaelin Rowell, Messenger Reporter
March 6, 2017
February 21
Four years ago, the area of Midtown wasn't known by hardly anyone. It was an empty coke plant with broken windows, a few empty office buildings, and the roads seemed nothing other than vacant; a bridge between the city and downtown. Now, the area is flourishing. When you enter into midtown, you are met with the scene of today's youth. The bank towers over the area and the sun sets over the coke plant. Midtown Paducah has come so far. It is something that Paducah should take pride in.
Midtown Market came to Paducah around four years ago in the coke plant office building on Broadway. It was one of the first businesses to flourish in the community. All customers are met with smiles from employees and quality foods. The small store brings in many regular customers. "At Midtown Market, we do our homework and do our best to provide products that are both good for your body and good for the environment. That's why we carry many foods that are not produced or genetically altered in a laboratory. You'll find non-GMO foods and products throughout our store. If you don't find what you're looking for on the shelves ask one of our associates. We try to carry responsibly produced products that are important to the lives of our customers." the team says in the store website.
The coke plant was the next area to come to life in the Midtown area. Dry Ground Brewing Pipers Tea and Coffee opened their doors, providing something that the midtown area has never seen before. In April 2015, Pipers opened and the owners began offering various coffees and 35 different teas to the community. "I wanted a really cool coffee shop that could do really good drinks," Peter, the owner, says in his issue of the Paducah Life Magazine. Dry Ground Brewing came soon after. They were the first company to sell locally crafted beer along with food from Kirchoff's bakery.
The most recent businesses to appear in the coke plant include the ice cream factory and Mellow Mushroom. Mellow is the newest addition to the Paducah area, sending the town into a frenzy. Fresh pizza is hand-tossed and made to order and is the first franchise to open doors in this area of town, which is a really great thing (other than the parking issues). The ice cream factory, from downtown, recently opened a location in the coke plant too.
If you have not visited the Midtown area, I strongly encourage you to do so. It captures the essence of Paducah and has helped our town grow into what it is today.