The Problem With the Grammys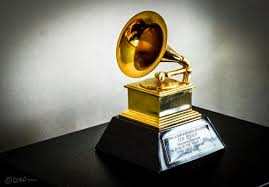 Luke Resser, Messenger Reporter
March 6, 2017
What happened to the Grammy's? Each year, they seem to get worse and worse. It could be that music is getting worse. But with artists like Kendrick Lamar and Radiohead staying strong, that can't be it. It has to be that there's something wrong with the Grammy's themself. When Taylor Swift's 1989 beats Kendrick Lamar's To Pimp a Butterfly, or when Drake's Views is considered for album of the year, the problem becomes clear. The Grammy's have become nothing but a popularity contest.
To Pimp a Butterfly holds a 96% on metacritic.com and a 4.5/5 on rollingstone.com. 1989 has a 76% and a 4/5. However, To Pimp a Butterfly sold about 1.015 million copies, while 1989 sold a whopping 5 million. Kendrick Lamar clearly released the better album, but Taylor Swift's was much more successful and so it got the Grammy for album of the year in 2015. But this year, it was even worse. The nominees for album of the year consisted of Beyonce, Justin Bieber, Drake, Sturgill Simpson, and Adele. It's no surprise to see Beyonce and Adele on this list, and Sturgill Simpson was a pleasant surprise. However, Drake in no way deserves to be on this list. Drake has enjoyed his spot as one of the most popular rappers without ever deserving it. Don't even get me started on his win for best rap performance. And I hope that no one agrees that Justin Bieber made the best album of the year. Adele took home the award, but there were definitely better albums released in 2016. David Bowie's new album won the award for best alternative album. While I am glad that he won, there's just something strange about this. David Bowie's been making great music for years and the only other Grammy he's won was for a music video. It just seems strange that he had to die before they could give him a Grammy. I also feel like his death is the main reason he won. His album was great, but I feel like Radiohead had the better album. But in the end I'm fine with Bowie winning. However, one of the biggest disappointments for me was that Weezer wasn't given the award for best rock album. Much of Weezer's earlier work definitely deserves Grammy's, but they were finally given a nomination for best rock album for their fourth self-titled album. And for some reason, it was given to Cage the Elephant instead. However, if it wasn't Weezer, I'm glad it was Cage the Elephant because if it wasn't them, the award could've gone to Panic! at the Disco or blink-182. Another strange award that was given was Chance the Rapper's win for best new artist. Chance has three mixtapes out so what qualifies him as a new artist? Chance also won best rap album, but I would've liked to see best new artist go to Anderson .Paak.
All in all, Grammy's have lost a lot of credibility for me. They've been completely turned into nothing but a popularity contest. They've given up on giving awards to the people who actually deserve it. All the Grammys are now is a huge event where artists can come and give themselves a pack on the back regardless of their musical talent. Until they start giving awards to the right people, Grammys mean nothing to me.