Sidelines: When Lovers Change Your Mind
Eden Neihoff, Staff Writer - The Mustang Messenger
September 26, 2022
Released April 22, 2022, "Sidelines" by Phoebe Bridgers was put out amongst various streaming platforms. This single was featured in the book-to-film adaptation of Sally Rooney's, "Conversations with Friends" where the song is shown in the trailer. The song was produced by Marshall Vore, Phoebe Bridgers, Tony Berg, and Ethan Gruska. This song shows growth from past music within the excellent lyricism, musical production, and perfect mood harmonization.
Inside deep lyricism, "Sidelines" shows an excellent take on changing perspectives because of a person that makes you comforted and at home. The beginning of the song starts out from a semi-positive and fearless perspective of life. This shows in the song when it is heard, "I'm not afraid of living on a fault line .'Cause nothing ever shakes me. Nothing makes me cry." It then tells us in the chorus about a past idea and action of, "Watching the world from the sidelines" Which means, liv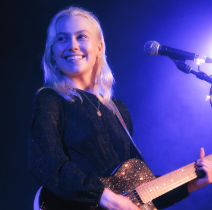 ing life as a satisfied people watcher and did not participate. This allows the listeners to understand that the narrator, "Had nothing to prove." As it says in the song, until the love interest came into their view. Fans say when asked, "I relate to this song as a people watcher and someone who didn't participate often until someone changed my life and ideas."
The musical production in, "Sidelines" is quite different from old music from the artist. This song is very interestingly built up but in a soft mannered way. Past music from Phoebe Bridgers differs greatly from this dream pop sounding song. But, it can be related to her 2020 release, "Punisher." A distorted low piano can be heard as the background track blending well with Phoebe's high pitched voice. Guitar plucking is sounded sparingly between lines in verses. Overall the song is very minimalistic rather than previous works. Fans say "I've cried about 100 times since the release and it isn't even that sad."
"Sidelines" has a very embellished but modest sound to it. The tone of the song sounds to be unsure. It touches on past fears toward anything. The narrator assures everyone that they are not scared or afraid of anything anymore. This establishes a moment of security after an insecure adolescence. The music portrays a similar tone of unsureness and a childlike essence just by the key and chords of the song. As shown in the ending verses, "And I used to think,
you could hear the ocean in a seashell. What a childish thing!" Joseph Joe says, "I love this song, it really touches my heart." "Sidelines" knows exactly how to link lyrics with music using similar tones.
This song is a very unique one. It has excellent lyrics, melodies, and matching moods within both. Everyone is pleasantly surprised with the outcome of a new type of song by Phoebe Bridgers and excited for more content from her. Phoebe Bridgers came out and stated, "I appreciate having the ability to write for people who are like me."