Let's Address the Dinosaur in the Room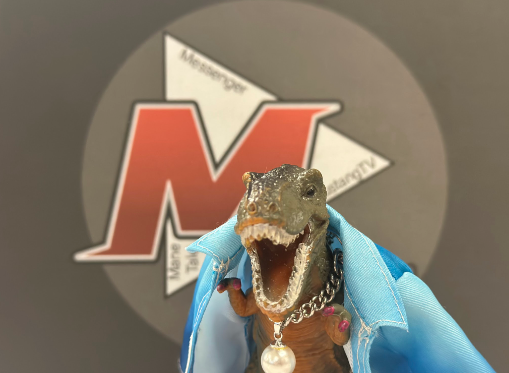 Geraldine Green-Jones-Dunes is a 6-year-old Freshman at McCracken County High School.  He is an exceptionally bright mini-Tyrannosaurus Rex who uses his mind to artistically express himself.  
To begin, Geraldine is parented by 3 young women.  His moms include Freshman Delaney Green, Junior Kaci Jones, and Junior Elisabeth Dunn.  These fine women met in their shared class, Intro to Creative Writing.  Ms. Green was the one who initially adopted Geraldine from the local T-rex shelter, the Paducah Dollar General.
They are proud to call their son the next Einstein.  With his 182 IQ, Geraldine is able to express himself in every way possible.  His intelligence is what makes him the first 6 year old in history to attend highschool.  "He could've made it to college, but we wanted to keep him close to us during the day considering we go to highschool right now.  He hasn't even started puberty yet," remarks one of his moms.  
Geraldine mainly expresses himself through various forms of art  He takes all honors art classes, songwriting 101, rap 202, piano 1, and Fashion II.  "You can't spell fart without art, therefore, I am art," says Geraldine.  He gets his artsy fartsyness from his youngest mother, Delaney Green, who exclaims, "I'm so proud of him.  I love seeing his work.  I know he will go far in life."  
Adding onto this, this fine dino raps in his free time.  He writes his own lyrics, in and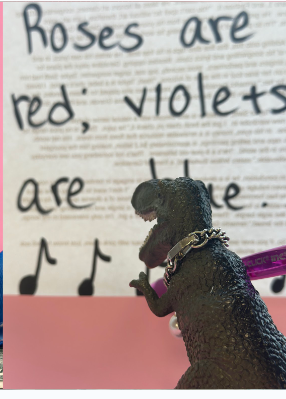 outside of his songwriting and lyrics class.  He has walked several runways, even when he was in a stroller.  He has been simply unstoppable since he hatched from his egg.  He has written songs for the most prominent rappers of today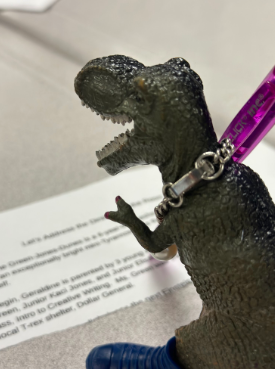 including Eminem, Dababy, Lil Baby, Snoop Dogg, and Post Malone.  "Snoop Dogg is my idol.  I look up to him.  He inspires me in every way of life.  Snoop, I love ya', man," states Geraldine.  
Besides rapping, Geraldine plays the piano for famous singers and performers.  Most recently, pop star, singer-songwriter, Taylor Swift had him perform on her eras tour in the state of Arizona.  He will continue on the eras tour until it ends in August, 2023.  "Yeah, Taylor brings out my inner yass.  She makes me feel all the emotions I can't get out.  I love her.  I loved playing for her.  I'm so glad I get to continue on THE eras tour. EEE!!!," remarks Geraldine.   In the past, he has also played for Shawn Mendes, the Jonas brothers, Justin Beiber, Beyonce, Selena Gomez, Ariana Grande, and Phoebe Bridgers.  
Like Taylor Swift, Geraldine is also blessed with a natural sense of style.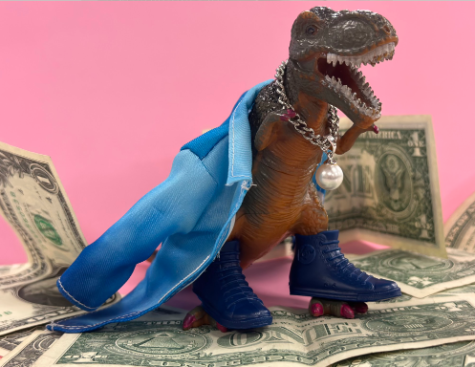 "Yeah, I just got my new wardrobe in.  I got the fresh chain yo, check it," he says.  There is no price range for Geraldine.  In his eyes, money is a renewable resource that flows from rivers.  His net worth, from his raps and selling paintings, is approximately $4.2 billion, making him the youngest billionaire in the world.  "He's a 6-year-old billionaire.  That's not something you see everyday.  It's unbelievable," states Willow Burkehold, a sophmore, a friend of Geraldine.  
Geraldine uses his money for his art and to the benefit of charity.  "I paint and sell my paintings, so I get back what I put out.  It's a self-sustaining system.  Really, it's ingenious.  Best way to make a quick bag," he says, "I give whatever is left over to local charities and shelters, including the one I was adopted from.  Always remember your humble beginnings and all that yo," he continues.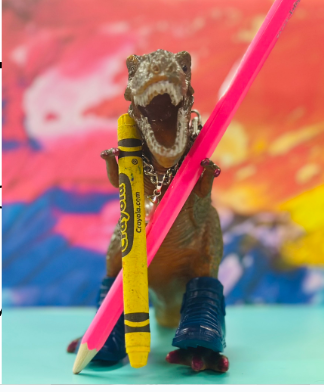 Furthermore, he is a devious fellow who loves to engage in tomfoolery.  "Every now and then, I even indulge in buffoonery," explains Geraldine,  "I don't want to say any more about that."  He has hornswoggled many female students, even those of a diverse species.  As of right now, Geraldine is focusing on himself and his studies.  He is single and not looking- sorry ladies!  "I don't like argle bargle.  There's no use in finding myself a girl.  I'm only interested in my songs, art, and the bread," remarks Geraldine.  
So, if you ever see a 6-inch-tall 6-year-old dinosaur with pink claws, just know he will ask you to engage in artistic shenanigans… He might even play Skibidi Bop Yes Yes on the piano for you…