"LEGALLY BLONDE" Coming to MCHS this April
Kendel Ponchock, Messenger Reporter
November 28, 2016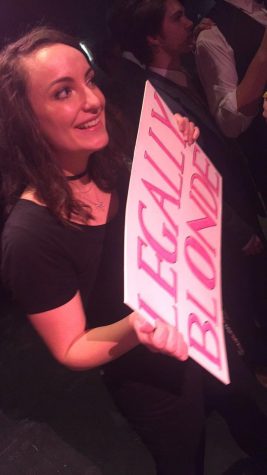 The Spring Musical was unveiled the night of November 12… and it's "so much better" than what any of us could have hoped for! The theater department will be decked in pink from now on out in preparation for Legally Blonde the Musical, opening at MCHS in late April.
Legally Blonde is the musical adaptation of the 2001 movie starring Reese Witherspoon, who plays the leading lady Elle Woods.
Elle, a California girl deemed "too blonde to be taken seriously," follows her ex-boyfriend all the way to Harvard Law School in a bid to gain his love again. Once there, she discovers a knack for law and a newfound confidence… because "being true to yourself never goes out of style".
This musical is one of the most inspirational and fun shows to grace Broadway, so listening to the show's soundtrack is highly recommended.
When asked about the thought process behind choosing this particular musical, Mrs. Bowden (director of the MCHS theater department) said "I always think first about what my students and department needs, then what the school needs. I want my students who are very committed, to have a wide range of experiences. We have recently done shows with serious undertones and messages, so this year I wanted bright, showy, and fun. The musical decided itself! Legally Blonde is a perfect contrast from last spring's musical, Fiddler on the Roof, and can showcase our talent perfectly.  I am very excited! Who doesn't love a show about being true to yourself?" Perfectly said Mrs. Bowden.
Students across MCHS are already watching the movie for inspiration and the excitement within the theater department is growing every day.  "Words cannot express how excited I am about Legally Blonde," MCHS junior Jessie Elliot says while grinning ear to ear.  "The characters are lovable, the music is ecstatic and uplifting… it will make you laugh and cry.  Paducah is going to absolutely fall in love with this show."
Auditions will be held in late January, with the show in late April. Audition information will be available at the return of Christmas break. Stay excited and "Keep it positive!"
Want more info and updates? Follow the official Theatre Department Twitter @MCHSTheatreDept!