Mustangs STOMP for the Cure
Kaitlyn Craig, Messenger Reporter, Columnist & Human Interest Coordinator
December 12, 2016
It is always a fantastic feeling knowing that you are a part of something that is going to make a difference in your community. Here at McCracken County, we take pride in the fact that we have a district full of people who are passionate about helping others which showed at this year's STOMP For a Cure, where about a third of the performers were from McCracken County Schools.
STOMP For A Cure donates all of the profits from the event to people fighting cancer in Paducah. This is the fifth year that this event has been held and it has done a lot of good for the people in this community. This event also gives the people participating a chance to open their eyes to the fact that people are struggling all around us, and that they can do things to help these people by giving them a moment of their time to provide entertainment and joy. Those who perform in this event are people who love to perform and entertain. Hope Eason, a Junior at McCracken County High School is one of those performers. She was in Mainstage School of Performing Arts' "Anything Goes" number. When asked what her favorite thing about being a part of STOMP is, Hope said, "I love that it openly means something to people, performing usually means something, but this was specifically set up to support cancer survivors and current fighters. Cancer has affected everyone in some way personally, myself included, which makes this night special for everyone in individual ways."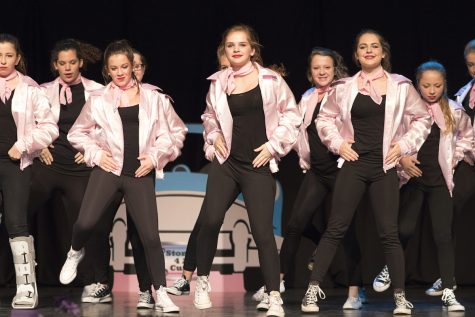 Every group that performs at STOMP is given a type of cancer and a V.I.P. guest with that cancer to dance for that night. These guests are residents of Paducah who are either survivors or current fighters, one of them being our own Mrs. Bohannon. Some of the V.I.P.s were related to the performers, and a couple of the performers were survivors themselves. A Lone Oak Middle School Cheerleader, Nina Kovach, had cancer when she was 4 years old. Nina's mother said that she is very proud that her daughter gets to be a part of this and that it is awesome that Nina gets to give back to others who are going through similar things that she went through.
This event shows that Paducah is united as one community and that we all care about one another. Our district showed that we have some very talented, caring people. They chose to perform and entertain to help raise money for cancer treatment and research.