Five Places To Visit In America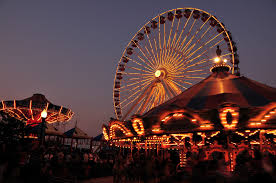 Rachel Bell, Messenger Reporter
September 28, 2016
September 28, 2016
1. Navy Pier – Chicago, Illinois
On the shore of Lake Michigan in Chicago is a bustling hub of shopping, eating, and recreation. Navy Pier has plenty of restaurant choices, from McDonald's to the world famous Harry Caray's restaurant. There is a full-sized mall inside, and a mini-amusement park. The Pier is home to a ferris wheel (featured in the first Divergent movie), a swing ride, a carousel, and multiple kids' rides. Being on the lake, a gentle, cool breeze blows across the area. It's one of the most romantic destinations in the metropolitan area, right on the water, and outside dining to look out onto the beautiful Lake Michigan.
2. Gaylord Opryland Hotel – Nashville, Tennessee
If you've been to the Opry Mills Mall, you've seen the Opryland Hotel in front of it. Many people don't think to go inside, but it's well worth the time. The inside is decorated like a tropical rainforest, complete with several bistro restaurants and walkways across the large central room. Hotel rooms with balconies overlooking this are available, for a price increase. There is even a waterfall in the main space of the hotel. It's also within walking distance of the Opry Mills Mall, so plenty of shopping is available. Even if this hotel is too far out of your price range, it's worth checking out and taking in the sights of it all.
3. Chelsea Market – New York, New York
Within the Meat-Packing District of the Big Apple is Chelsea Market, a vibrant shopping center full of different stores and experiences. No chain businesses will be found here. It's all mom-and-pop shops, but the entire gives off an air of trendiness and fashion. There's a bakery near one of the entrances, and the sweet smell fills the entire market. A grocery store is in it, as well as a bookstore and several shops that offer items from different cultures, such as India. There is a fountain and a bridge with hanging fairy lights in the middle of the market, which is the most beautiful thing on this list to walk through and witness.
4. The Mall of America – Bloomington, Minnesota
This is truly called "The Mall of America" for a reason. It has everything you can think of. It's four floors, arranged in a circular pattern around an indoor amusement park. The third floor is basically the foot court, which has nearly every chain restaurant, from Cold Stone Creamery to Bubba Gump. The fourth floor is home to a wedding chapel, among many other things, most of which aren't stores. It's difficult to see the whole thing in one day. An aquarium is in the basement of the mall. Even people who don't enjoy shopping can find something in the largest mall in the United States.
5. The Entire Town – Wisconsin Dells, Wisconsin
This entire town is designed for a family vacation. All your basic tourist activities are here, like laser tag and putt-putt golf. Nearly every other store is a souvenir shop, offering tee shirts and keychains with the town's name on them. It's right on the Wisconsin River, so they offer boat rides as well. Every hotel in the area has a waterpark in it, so you don't even have to leave your hotel to enjoy your time here. Wisconsin Dells is a town very similar to Gatlinburg, Tennessee, in that the entire economy is geared towards tourism. As with most places in the Midwest, yes, they have a Culver's too.