Drew Smith Is Running The Show!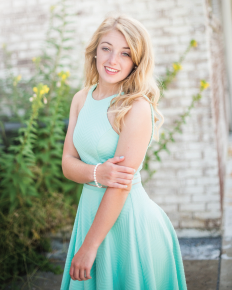 Rachel Bell, Messenger Reporter
October 5, 2016
October 17, 2016
If you've been to any MCHS football games, you've seen Drew Smith, whether you realized it or not. During halftime she can be seen on top of the Marching Band's conductor platform, because not only is she the Drum Major of our marching band, she conducts it as well. It's a busy schedule, she says, but it's obvious that despite her obligations, she has been able to become a well-rounded person, both in her academics and extracurriculars.
When asked about her job as Drum Major, her entire face lights up. It's evident she takes it very seriously, but enjoys it and considers it her life. "It takes so much time," she explains, grinning. "It's almost a job in itself. It's taught me, above all, that if you work hard enough, anything is possible." Drew tells that she was the Assistant Drum Major last year, when Mr. Lovell approached her with the suggestion that she should try out. He worked with her to prepare for the audition, and was really helpful, she remembers. "I didn't think I would get it. I was up against people who were older, more prepared, and more experienced. But I ended up getting it! When I tried out for Drum Major this year, I was much more confident."
Drew attended Booth Elementary School in Enfield, Illinois, and moved to Heath in sixth grade. "I played clarinet in fifth grade," she says. "That was my first experience with music." In her freshman year at McCracken County High School, she played volleyball, but had a lot of friends in marching band who convinced her to join the next year, as a sophomore. She played clarinet then through her junior year, until she got the gig as Drum Major.
So what is a Drum Major? "I don't actually play drums. I keep time, control tempo, keep the band in line, make sure everyone is on task," she describes.
Even though it seems to take up a lot of her schedule, marching band isn't the only aspect in the life of Drew Smith. She's previously volunteered with Project Hope and Hope Unlimited and aspires to become a dentist. "I want to help people, but I think losing a patient would be the hardest thing ever, and you don't really have that in dentistry. Plus, there's not as much blood," she laughed.
She draws her inspiration from Mrs. Carter, who was her AP Seminar teacher junior year. Drew says Mrs. Carter "pushes her students to achieve their highest level of work", and genuinely cares about each and every one of them.
Drew also enjoys looking up funny quotes and knowing what Kanye West and the Kardashians are up to. "I binge-watched the new season of American Horror Story last weekend. It was great," she added.
Drew is one of those people who is proud of her accomplishments, but remains down-to-earth and friendly to everyone. She also enjoys looking back on her past experiences, but continues to make new memories every day with her friends. After competitions, she and the marching band always go to a restaurant as a tradition. Even her favorite song has a deeper meaning. "It's Best Day of My Life by American Authors. It always reminds me of growing up, with all the good times and bad times," she says, smiling the whole time. One thing is for sure: Drew Smith has a bright future ahead of her, and like all the best conductors, she'll be running the show.