'Catch Me Outside' leads to Suicide?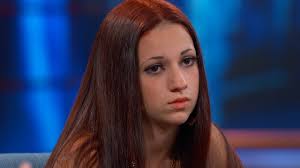 Kaelin Rowell, Messenger Reporter
February 1, 2017
On January 23 NBC-news.net published a news article that sent America into a frenzy, claiming that a Dr. Phil guest known as the "Catch Me Outside" girl committed suicide.
Danielle appears on the show with her mother, who has turned to Dr. Phil because Danielle is stealing cars. Tired of the audience laughing at her, she cries "Catch me outside, how about that?" Clips of the teen's banter went viral, creating a new meme.
A month later, a web-site that appeared to be affiliated with NBC News reported the 13-year-old girl's supposed suicide. The report says:
"After months of bullying from social media and peers at school, Danielle Ann was found dead in her room on January 23. The harassment began shortly after the Dr. Phil show released a clip onto their Youtube channel, in which a 13-year-old Danielle appears on the show for stealing cars."
Thankfully, this news site is completely unaffiliated with NBC news and Danielle is still with us. The article is completely satirical.