Midtown Market: How a Small Business Turned Big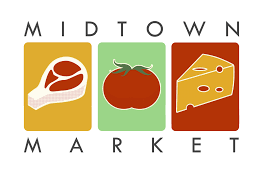 Kaelin Rowell, Messenger Reporter
September 16, 2016
By Kaelin Rowell September 16, 2016
In 2012, Andy Carloss, like many others, hoped to fulfill his dreams of opening a successful small business. He wanted a place that captured everything he loved about living in Boston in his hometown of Paducah, Kentucky.
"I knew a month after moving to Boston that I would ultimately come back home," Andy says in his interview with Paducah Life magazine. "I've always been proud of Paducah and Kentucky and my roots are here. I think I've always known that I would find some way to make this my home again."
Andy had a plan. Paducah was finally going to have a specialty grocery store with easy access to produce from local farms, personalized service, and locally sourced products, which had become nearly extinct in Kentucky. This was guaranteed to be difficult in the midtown area, considering that the demand for specialty products was going to be hard to conquer in such an undeveloped area of the city. So how did it become such a big deal?  
This may sound biased, but the success of Midtown Market has skyrocketed because of a small team of people; one of them is my father. My dad, Ricky Rowell,  has always been the type of guy to put others before himself and put his own spin on things to make sure his products are the best that they can be for his customers. I asked my father how Midtown grew over the small course of four years.
"Midtown (Market) has continued to be successful because we treat our customers like family. We make sure to go out of our way to help our customers," he says, "We want to make sure they have a shopping experience like no other."
Since it's launch in 2012, Midtown Market has partnered with many other businesses in Midtown Paducah, including Pipers Tea and Coffee, along with Kirchoff's Bakery, Dry Ground Brewing Co., and Italian Grill. The store actually sells more local products than the entire western side of the state!  "We want to make sure that people are getting the best quality of local products out there. We want to show the city that we are a closely knit group of businesses." Partnering with neighboring businesses has not only provided a close-knit community but has driven profits up for every store involved.
Midtown Market has primarily gained success because of their specialty food items. Vegans and vegetarians have a hard time finding gluten free, healthy, and high-quality items that are entirely natural and cruelty-free. In addition to this, Midtown Market also takes strides to make sure that a great portion of meat is from grass-fed animals and contains no GMO's, meaning that the food contains nothing that is genetically modified.
"At Midtown Market, we do our homework and do our best to provide products that are both good for your body and good for the environment. That's why we carry many foods that are not produced or genetically altered in a laboratory. You'll find non-GMO foods and products throughout our store. If you don't find what you're looking for on the shelves ask one of our associates. We try to carry responsibly produced products that are important to the lives of our customers." the team says on the store website.
The market also sells meals that are fresh. Whether it be a "Go Big Bleu" sandwich or Pat's homemade Chicken N' Dumplings, you are guaranteed to have a freshly made meal that reminds you of home.
People often try to compare Midtown Market to corporations such as Walmart or Kroger, but these stores can not be compared because they are entirely different. Midtown does not serve the low-quality, name brand products that these corporations are advertising. They sell products that are close to our home in Paducah. That is what makes the store so special. Today, if you were to walk into Midtown Market, I can guarantee you that you would walk into an environment where you are appreciated. You would be served only the highest quality of items and like many of the other residents of Paducah, you will surely be impressed.