McCracken Against The World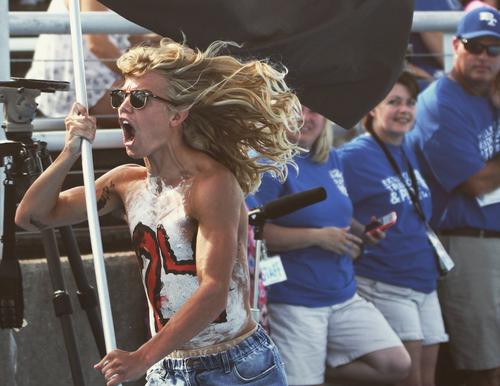 Reese Guill, Messenger Reporter
September 16, 2016
For some reason, McCracken County High School is the most hated school in Region 1, It's probably for good reason too, we are just straight up dominant in basically every sport we offer. In our 4 short years of existence, we have stacked up our championship trophies. In softball, we have 1 state championship, 2 state runner-ups, 3 region championships, and 3 district championships. In baseball, we have 3 district championships and 3 region championships. For tennis, we have 2 state team championships, 2 state individual championships won by Michelle McKamey. For football, we have 3 regional championships.
In basketball, we have 1 district championship, 1 regional championship and made it to the state Sweet Sixteen in our first year, led by the great McCracken legend Kam Chumbler. The list goes on and on, so by now, I hope you understand McCracken's dominance in only 4 YEARS of existence.
McCracken is a lot more than just sports. McCracken was not put together to beat the rest of the region, because "we couldn't beat them by ourselves". McCracken was put together to strengthen our community, and that it has done. At all of the football and basketball, I usually sit with my dad, amongst all the other parents of the community. I have never once heard a parent talk bad about McCracken coming, granted there were a few the very first year, but either they just haven't come back or their minds were changed. At the school, everybody is for everybody. The staff of, not only just McCracken High School but every staff member of the entire McCracken County Public School system are amazing. They care for us like it's nobody's business. Our principal is without a doubt the greatest principal in the state. Maybe, just maybe, the country. Mr. Michael Ceglinski is very vested in the students at McCracken. He is there cheering in the student section for every game. During FCA meetings every Friday morning at 7:25, he is there having fellowship and worship with us. He prays with us, he prays for us. When I think of Mr. Ceglinski, I think of one of my favorite bible verses, Colossians 3:17. It says: "And whatever you do, whether in word or deed, do it all in the name of the Lord Jesus, giving thanks to God the Father through him." Tell me one other public school principal like that in this state. That's right you can't find one. Everyone in this school loves The Man, The Myth, The Legend, Michael Ceglinski, and he loves us even more.
McCracken is about the theater, the drama department, and the art department. Every play that the theater department puts together is just simply amazing. Ms. Bowden is the drama teacher and the director of all the plays they put on in the C-Plant Performing Arts Center. She has put McCracken theater on the map throughout the artistic community of Paducah and the surrounding areas. While Ms. Bowden is in charge of the drama department, McCracken will slay every play they perform. The art department, led by Mr. Kimball, Mrs. Stamper, and the wonderful Mrs. Pesoat. The art department is filled with amazingly talented artists of all types. I have major respect for artists, for I can barely even draw a stick figure and make it look good.
So what the main point of this is, if someone ever tells you that McCracken is not good or that McCracken is only about sports, please refer them back to this article. Or if not, please have them talk toJosh Grogan, Mr. Ceglinski, Christian Cathey, or me. I hope you all got something from this article because I know I sure did. Work Hard and Be Nice, Mustang Nation.