Carrie Fisher and the Future of Star Wars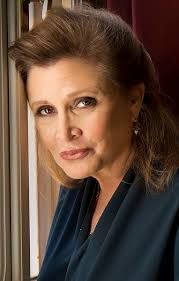 Rachel Bell, Messenger Reporter
February 28, 2017
Months ago, we reported that Kenny Baker, the actor that played R2-D2 in the Star Wars films, passed away. Now, the world has lost another Star Wars alum. Carrie Fisher, who played the iconic Princess Leia, passed away on December 27, 2016.
Fisher was only nineteen years old when she starred in the first Star Wars film in 1977. Movie-goers were unable to mask their surprise as the character they assumed would be the damsel in distress grabbed a blaster and fought her way through hordes of stormtroopers. Leia quickly became a feminist icon. Off of the silver screen, Fisher battled bipolar disorder, and was an active fighter to end the stigma of mental illness. It is no secret that Carrie Fisher was a hero to many.
Many wonder what the future of the franchise will be now that one of the main characters will no longer be able to appear. Fisher finished her scenes for Episode VIII, but no one knows what those are. It's doubtful that they killed Leia off, but there's no way to tell. Star Wars is very careful about keeping plots under wraps before the films hit theaters.
Recently, filmmakers have put deceased actors in their film franchises digitally. In Fast and Furious 7, post-production put the late Paul Walker into scenes, as he was in the middle of filming when he tragically died in a car accident. The newest film in the Star Wars franchise, Rogue One, saw Peter Cushing digitally entered as Grand Moff Tarkin, alongside a young Carrie Fisher as Princess Leia. Not all films take this route, however. When Philip Seymour Hoffman died in 2014, he was playing in The Hunger Games film series. The writers decided to rewrite the script around his untimely death, and his character's role was reduced to fit the scenes they had recorded.
Lucasfilm released a statement regarding fans' speculation that this is what they'll do to Princess Leia: "We don't normally respond to fan or press speculation, but there is a rumor circulating that we would like to address. We want to assure our fans that Lucasfilm has no plans to digitally recreate Carrie Fisher's performance as Princess or General Leia Organa. Carrie Fisher was, is, and always will be a part of the Lucasfilm family. She was our princess, our general, and more importantly, our friend. We are still hurting from her loss. We cherish her memory and legacy as Princess Leia, and will always strive to honor everything she gave to Star Wars."
Many movie-goers are quite creeped out by digital recreation. The thought of a deceased person "acting" alongside the living can be eerie. A lot of people were relieved to discover that Carrie Fisher would not be returning that way, but it opens the doors to a lot more speculation. It's unlikely they killed Leia off in Episode VIII, but if not, how will they handle the death of their main character? Will she be sent on a mission and be killed off-screen? Will Kylo Ren win a battle against his mother, as he did his father? No matter the case, it will all turn out alright. Star Wars is known as one of the greatest film franchises in history for a reason. There is no doubt they will take this tragedy on with poise and respect.