Big Blue Nation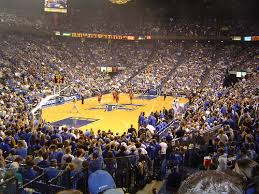 Whitney Herring, Messenger Reporter
March 3, 2017
February 2017
In Kentucky, basketball is a big deal. Elders, teenagers, and young kids live and breathe Kentucky and Louisville Basketball. There is no other state that loves basketball more than the state of Kentucky. Whether you are born a UK fan or a U of L fan, basketball runs in your blood. You watch every game, know the players by heart, and love the team as a whole.
UK fans are crazy, they always have been. They camp out for days just to get tickets to watch their favorite team play, they travel all over the country with the team, and other schools fear the Big Blue Nation. There is no place better to watch a game than Rupp Arena, it is the second largest college basketball arena in the United States. Fans come here to bond, have a good time, and hopefully watch the Wildcats win. Kentucky basketball has become part of many Kentucky families lives, it has created bonds that will be hard to break.
Many UK fans were born into a family that live and breathe Kentucky Basketball, it has become a big part of their lives. The game of basketball and the Kentucky Basketball team is important to fans all across the state of Kentucky. Kentucky Basketball isn't just a college team to some people, it's a way of life, it's entertainment, it's where they find happiness.
John CaliPari now leads this team, fans are hoping he leads this team to a national title just like back in 2012. Fans everywhere are cheering for Kentucky and wanting them to make it and win the NCAA. Fans are also still cheering for the Wildcats even though they have lost a couple of big games. Kentucky fans are always going cheer on their favorite team.
Kentucky Basketball is a tradition that has been around for a very long time. No matter where the team goes, people know who they are. Kentucky Basketball will be around for a long time, I mean it is the greatest tradition in college basketball.