Rachel's Retro Reviews: A Hard Day's Night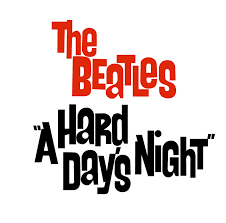 Rachel Bell, Messenger Reporter
March 4, 2017
WARNING: While the author has taken painstaking efforts to leave this review spoiler-free, the definition of a "spoiler" is subjective, and everyone has different thoughts and opinions on this. Please read at your own risk.
In 1964, British rock band The Beatles ruled the world. They were the most recognizable people on the planet, and they captivated the world with their music and charm. That year, to satirize their unpredictable and interesting lives as rock stars, they released A Hard Day's Night, a mockumentary film exaggerating what the four boys from Liverpool go through on a daily basis. Directed by Richard Lester and produced by Walter Shenson, the film was both a financial and critical success, as well as being listed on Time magazine's list of the 100 greatest film of all time. It's a no-brainer that it would be the first issue of Rachel Reviews rebranding, Rachel's Retro Reviews.
The plot is simple: it's a look at a day in the life of the biggest rock band in history. The Beatles (John Lennon, Paul McCartney, George Harrison, and Ringo Starr) are set to perform on television. Paul has been enlisted by his family to look after his grandfather (Wilfrid Brambell), who's "nursing a broken heart". The boys are accompanied by their two managers, the short-tempered Norm (Norman Rossington) and the bumbling Shake (John Junkin). Paul describes his grandfather as a "king mixer", who quickly lives up to his reputation and starts conflicts between everyone he meets. Right before the band is due on the television set, Ringo goes missing, and it's up to his bandmates to get him back in time for their appearance. The entire movie is chock-full of zany adventures, hilarious jokes, and classic songs.
This film is predominantly a comedy, and it shows. The humor is quirky and intellectual, making the viewer really pay attention in order to get the jokes. The visual gags are some of the funniest in the movie. Some of the jokes are cultural and would be lost would be lost on our generation without sufficient prior knowledge, though. For example, as a running joke, Paul's grandfather is often called a "clean old man". Wilfrid Brambell was on a television show called Steptoe and Son, wherein his character was known as a "dirty old man". Most of the jokes, still, are funny even without vast knowledge of 1960s British sitcoms.
Everything about this film is over the top. The situations, the characters, the acting, all of it. But it works. The film was created to poke fun at The Beatles' everyday lives, or rather, what people perceived to be their everyday lives. Another running joke is that no one seems to recognize the boys, even though they had the most recognizable faces in the world at the time. While the running jokes are funny, the one-liners are truly what make this film. For example, a reporter asks, "How did you find America?" John Lennon, without missing a beat, replies, "Turned left at Greenland." The Beatles themselves aren't meant to be good actors; rather, they're meant to charm the viewers, and that what they're good at.
Time is right; A Hard Day's Night is truly one of the best films ever made. It's got a simple plot, it's funny, musical, and good clean fun. The beauty of it is, you don't have to be a huge Beatles fan to enjoy this flick; you just have to have an appreciation for good films. It might bore some, but that's just because the humor is so intelligent (but it maintains its irreverence). Everything about this movie just works. Running at only 92 minutes long, it's a great way to spend an afternoon. This film is indeed one of the hallmarks of American culture. The Beatles have influenced the world in so many ways, and we can still see those influences today. That in itself is enough reason to catch this movie. A Hard Day's Night is rated G.