April 2017 Horoscopes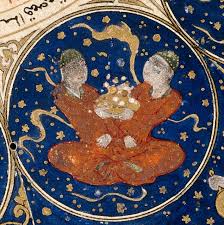 Kendel Ponchock, Messenger Reporter
April 17, 2017
We're almost there, people! The last month of school is slowly creeping up, but this isn't time to get lazy.  We have to fight to the finish.  Let's end this school year the right way.  Keep your horoscope in mind as you tackle April's hurdles.
Aries
Happy birthday, Aries!!!! April is a very hectic month for you, but you've got this. Take it at a slow pace and soak up the sunshine! Celebrate you! Major transformations are happening. Overall, this is a prosperous month for you.
Taurus
You are the only one making decisions for yourself.  If you don't like something, change it! Go after things! You have the power to chose whatever you want. Intuition will guide you through the month of April.  Always consider what your head and heart have to tell you.
Gemini
Love and relationships are going to go through a bit of a struggle this month, but don't worry, it's nothing severe.  Keep your head up and do you; things will work themselves out. Health is going to excel this April, though. Soak up the spring weather and focus on enjoying your good health!
Cancer
Work and school are going to be the main focus for cancer born zodiacs this month.  These two things are what most of your energy is going to be applied to. It's finally time to hunker down and study for those AP tests and finals.  No slackers, cancer! You may have to find a way to use your social skills to get ahead of the game.
Leo
Your social life may be causing trouble in your love life and relationships, so take it easy this month.  Relax. Maybe you've had a busy schedule and need to take some time to focus on yourself and your relationships with others.
Virgo
Have you had confusion in your life lately? Take it easy this month and try to relax until the later half of April. You need to focus on yourself in order to rid the air of confusion and mixed feelings. Virgos are known for being perfectionists, and this can take a toll on your stress level.  Seriously take it easy this month and ease your mind of all worries.
Libra
The path to your personal success this month will be found by helping others succeed. You will have to be flexible with your plans and routine. You may even have to go out of your way to help another, but the payoff will be worth the struggle.
Scorpio
Health will potentially cause problems at the end of the month, so keep this in mind while working hard to finish the school year. You don't want to work yourself too hard.  Take necessary time off to heal mentally and physically if you are feeling weary.
Sagittarius
April is a good month for you, Sagittarius. Social life, finances, love, relationships, and health are all heading in the right direction. Good for you! However, this isn't a time to slack off. Stay focused but overall enjoy this period of good fortune.
Capricorn
Independence is the key word this month, Capricorn. The school year is almost up and it's come time for you to take charge and finish strong. You still have time to correct your mistakes if you've been slacking off, but it's up to you and only you!
Aquarius
Collaboration will get you far this April. Work with others to find new interests and hobbies! Independence is a great thing, but sometimes it's nice to share an experience with another person.  Friendships are going to thrive this month.
Pisces
Change is on its way! Maybe this means it's time for you to get a new job, new haircut, or change your eating habits.  You need an April refresher! Something to put your head back in the game with a new energy.