Rachel's Retro Reviews: Willy Wonka and the Chocolate Factory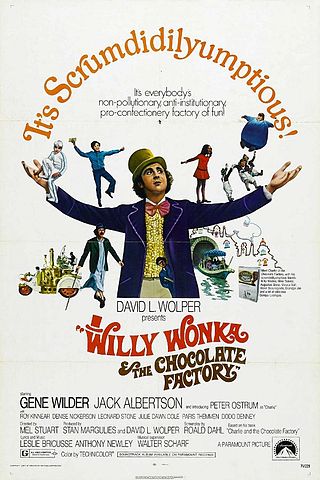 Rachel Bell, Messenger Reporter
April 27, 2017
WARNING: While the author has taken painstaking efforts to leave this review spoiler-free, the definition of a "spoiler" is subjective, and everyone has different thoughts and opinions on this. Please read at your own risk.
There are some films that have such a bearing on our culture, such an impact on our childhood, that it's owed recognition as one of the greatest of all time. The 1971 classic Willy Wonka and the Chocolate Factory is one of those films. Directed by Mel Stuart, it was based on Roald Dahl's 1964 children's book Charlie and the Chocolate Factory. While it wasn't a huge success at the time of its release, Willy Wonka has since taken its place as one of the greatest films in history.
Charlie Bucket (Peter Ostrum) comes from an extremely poor family. He lives with his mother and four bedridden grandparents, and he finds a confidant in his Grandpa Joe (Jack Albertson). They live in the same town as the famous candy maker Willy Wonka, but his factory has been closed for several years due to competitors sending in spies to learn Wonka's secrets. No one has gone in or out of the factory since the gates closed. Suddenly, Wonka makes an announcement that shocks the world: he has put Golden Tickets in five random Wonka Bars across the world, and the lucky winners will be invited to tour his factory and receive a lifetime supply of chocolate. Charlie knows he won't win, but he continues hoping for the best. He ends up winning the fifth ticket. He decides to bring Grandpa Joe. Willy Wonka (Gene Wilder) himself brings the five children and their parents around the factory, showing them around and eliminating them one by one, until a sole winner is left.
The best part about this film is the visuals and effects. Granted, this is the 1970's, so the effects are a little dated, but the visuals add to the timelessness of the film, especially in the Fudge Room of the factory. The outside world is dull and gritty, but inside the factory, the environment is fun and magical. That is, except for the infamous Tunnel Scene, where all sorts of scary imagery is shown that might scare children and even unnerve adults. There are all kinds of twists and turns in the factory, and you never know whether is something is really how it seems, or just an illusion.
The songs are classics that everyone knows and loves. "Pure Imagination" has a legacy of its own outside of the film, and "I've Got a Golden Ticket" can be stuck in your head for days after you watch it. The Oompa-Loompas' songs are all pretty similar and yet unique to the present situation.
When author Roald Dahl saw this film, he was dissatisfied with the fact that the film's focus was more on Willy Wonka than it was on Charlie. That's easy to see why. Gene Wilder truly steals the show in this. He portrays Wonka as a kindly but sarcastic mystery that is very sure of himself but causes others to doubt his actions. Wonka makes candy because "that's what he was born to do", without an in-depth backstory or reason. That's what makes Willy Wonka a great character. He's a dreamer, but not air-headed; sarcastic, but not mean-spirited; intelligent; but not pompous. There's a perfect balance. Gene Wilder's performance isn't to say Peter Ostrum was bad in his role of Charlie. In fact, he was very good. He was only twelve years old at the time, and he portrays Charlie as a real kid. He's a good person at heart, but that doesn't stop him from feeling jealousy or bitterness or hopelessness at times. That's something everybody can relate to, no matter what age. This was Ostrum's only film role ever; he later became a veterinarian.
Most everyone has seen this movie, but may not remember it very well because it's been so long. It's worth a rewatch. Willy Wonka and the Chocolate Factory is one of those rare timeless, 100% feel-good movies. Share it with younger generations. This one is going to be on movie shelves for years to come. Willy Wonka and the Chocolate Factory is rated G.