An Open Letter: Dear Pumpkin Spice Lovers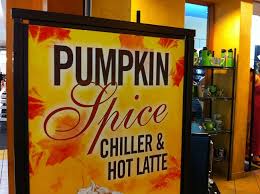 Caleb Buford, Messenger Reporter & Business Manager
October 27, 2017
Starbucks created a monster 14 years ago that the world needs to address; the recurrence of pumpkin spice every single fall. This year, the Pumpkin Spice Latte was reintroduced to Starbucks for the 14th time on September 5th, 2017. The craze for pumpkin spice has forced Starbucks to create a new drink this year; the Teavana® Pumpkin Spice Chai Tea Latte. But the obsession for this sprinkle of flavor expands beyond Starbucks. Krispy Kreme joined the cult and made Pumpkin Spice Original Glazed Donuts. Even Greenies, a petite dog treat company, made pumpkin spice dog treats. My dog is not going to care if it's pumpkin spice or not, it's a treat to them!
Pumpkin Spice isn't just a craze in the real world, it's also a big deal on social media too. A simple search on Instagram for #pumpkinspice revealed that there were 1,177,762 posts made on the site as of October 16th, 2017. Starbucks has even created the Pumpkin Spice Latte its own social media accounts. Pumpkin spice has spiraled out of control and it's time to put an end to it.
Look, I understand that this is a free country and every fall obsessed and coffee drinking human can have whatever they want when they want it, but we don't have to make such a big deal out of it. It's a spice that is very similar to other spices on the spice rack. It provides flavor, that's all. Maybe give another spice a chance, such as apple spice or pear walnut spice. I personally enjoy apple spice but why stick with one? There are so many options!
In conclusion, let's join together to end the popularity of pumpkin spice. Afterall, #applespicematters.