Donut of the Day: Red's Glazed Donut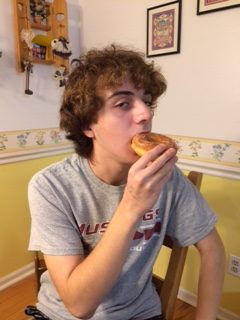 Connor Scholl, Messenger Reporter
November 10, 2017
Within the last few years, I've tried many a donut. I've ventured far and wide to find any donut that affects me in the same way the Walmart jelly donut does with very little success. However, my travels recently brought me to Red's Donut Shop, where I decided to try the glazed donut. While the Red's glazed donut doesn't truly rival the Walmart jelly donut, it is surely a close second.
At first glance, the Red's glazed donut doesn't seem extraordinary; it seems to be just another average glazed donut. However, after taking the first bite, these blasphemous thoughts are quickly disproven. This donut is truly unlike any other glazed donut; it is far richer and much more delectable. Shortly after taking a bite, the donut seems to melt in your mouth, dissolving into an addictive taste sensation. The very moment the donut hits your tongue, it is almost as if a choir of angels descends from the heavens to accompany your donut experience, cheering you on with every bite.
Not only is the taste amazing, but the aroma emitted from the donut is as well. While it may seem strange to discuss the smell of the donut, this particular aspect of the Red's glazed donut deserves far more attention than it receives. I've smelled countless things throughout my life, and I can safely say that none match the scent of the Red's glazed donut. With each inhalation, my nose was greeted with the sweetest scent it has ever had the honor of smelling. I almost didn't even want to eat the donut in order to preserve the wonderful aroma.
As far as I'm concerned, the Red's glazed donut is one of the best donuts I've ever been fortunate enough to eat. Although it remains second only to the Walmart jelly donut, I would definitely highly recommend it to any and all donut connoisseurs. (Just so you know, from this article onward, I will compare every Donut of the Day to the Walmart jelly donut since it is undisputably the epitome of quality pastries).