State Fair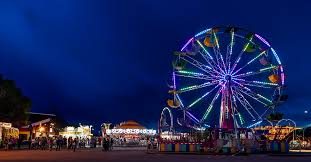 Olivia Vick, Messenger Reporter
November 10, 2017
Every fall, many states in the US have a state fair; this year I was able to attend one of these events. While this event is rather pricey, I believe it is definitely a worthwhile experience. The fairs include a plethora of food vendors, rides for all ages, games, and other events such as sand sculpting, animal exhibits, and more.
No fair is complete without loads of junk food. Here, I found Friske Fries, deep fried Oreos, cotton candy, and soda. There were also stands and trucks serving steak sundaes, ice cream galore, Mexican food, different pastas, lemonade, Gyros, Elephant Ears, hotdogs and corndogs, and almost any other food you could think of. This impressive array of food and your excitement will fuel you through your day.
State fairs have an amazing array of rides as well. From roller coasters for little kids to some rides that are scary no matter what age you are – and everything in between. My personal favorite is The Zipper, which features cage like cars that carry two passengers that rock and spin while running along a vertical track which also spins backwards and forwards. Everyone likes different types of rides, and there's something here for everyone.
There were many other activities going on at the fair. I saw several different performers such as a group of singers and a One Man Band. There was a Political Pig Race, a duck slide, a chicken show, and a petting zoo for animal lovers. There were different games at every corner and in every walkway with fun prizes. Fairs have all kinds of fun activities you can participate in, and all kind of opportunities to really get excited about being there.
Other nearby state fairs will be coming soon, and I highly recommend you go. It's a lot of fun, and the money made from the fair always goes to a good cause. Make a road trip out of it – or wait for Kentucky's own state fair next year – eat some junk food, ride some rides, pet some animals, and make sure you have fun. Remember, ride safely!