Vick – Christmas Band Concert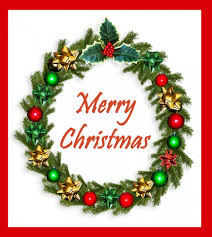 Olivia Vick, Messenger Reporter
January 22, 2018
In a surprisingly and impressively short amount of time, the McCracken County Band was able to put together another concert, Sounds of the Season. This took place in the C-Plant Performing Arts Center (C-Plant PAC) on December 14, 2017. The C-Plant PAC was decorated with garland, Christmas lights, a beautiful wreath, and Christmas and winter-themed photos displayed on the cyc. The students and staff dressed in a professional concert black, and had a wonderful performance. The different bands/ensembles performed a wide variety of music;
Percussion Ensemble playing "Sleigh Ride", conducted by Stephanie Buchanon.
Jazz Band playing "Hot Chocolate" and "Joy and Spirit" conducted by Kelley Ray.
Symphonic Band playing "A Christmas Flourish", "All is Well", and "First Noel". First Noel also featured a flute soloist, Pam Goodwin. This group was conducted by John Lovell.
Wind Ensemble playing "Fanfare of the Bells", "Ave Maria" with soloists Carson Barrow, Will Spraggs, and Reid Helton, and "The Polar Express" also directed by John Lovell.
During this performance, Mr. Lovell also took the opportunity to acknowledge some of the accomplishments of the many students. Our school had six students make All-State Band; Lindsey Kovach, Garrett McLaughlin, Aaron Beach, Ben Kitchen, Sam Banister, and Carter Gray. All-State Band is a high honor band made up of the most talented students from high schools across the state. Our school also had thirty students make All-District Band and ten students were chosen as alternates as well. Mr. Lovell also wanted to say "a huge thank you to all of our parents and boosters that support our students and program on a daily basis." The band also received help with the concert from several sponsors.
The concert was a tremendous success, and the students were very proud of their performance. If you didn't make it to the Christmas Concert, there will still be many opportunities to see the band perform. There will be a final concert in spring, and the band will be playing at the home basketball games throughout the season.