National "Thank You" Month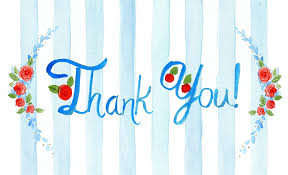 Jaden Raney, Messenger Reporter
February 1, 2018
January is a month full of change and (attempting) to better ourselves. The quick leap into the new year. But, not many of us are aware that January is also National "Thank You" month! This may sound sort of unimportant and silly, but when I discovered this, it personally inspired me to think of how much I appreciate the people in my life and how excited I am to spend my 2018 with them.
During National Thank You month, you can do simple acts of kindness to let people know that you appreciate them. You can handwrite "thank you" cards for the people that have done something nice for you in the past month, such as inviting you out to an event that they hosted or given you a gift. It is a common act of courtesy that we, as teenagers, tend to forget. It shows people that you are thinking of them, and willing to sit down to do something nice. You could also help others by doing small acts of service for them… such as cleaning up for them. Or if you like to cook.. make them a homemade dish or baked goods.
Even a phone call or text to someone in your life could make their day. Most of us get caught up in a daily grind, where we often forget to pause and focus on the reality of things. A simple, "Hey, I hope that you have a great day!" Or "I thought of you today, and I want to make sure everything is going well!" could be the just the thing that someone needs. Everyone needs to be uplifted every once in a while or reminded that people genuinely care about them.
This January, and the rest of the year, I challenge you to be kind to others and explore all of the different ways that you can express your gratitude. Simply thanking your friends, family, teachers, or anyone that provides a service for you can brighten their week, It also may encourage them to show thanks to the people in their life, too!