Call Me Be Your Name Review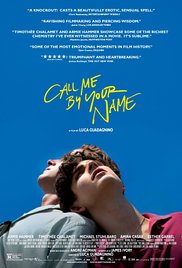 Daniel Cruse, Messenger Reporter
February 27, 2018
Call Me By Your Name is directed by Luca Guadagnino, starring Timothée Chalamet as a young Italian man who falls in love with his father's American assistant, played by Armie Hammer.
This movie was released in 2017 but was not showing anywhere in Paducah until February, and it's been getting a lot of award buzz for the acting, story, directing, and for the original score composed by Sufjan Stevens. The build up had me very excited to see this movie and I was not let down. The story is heartfelt, realistic, and grounded by Chalamet and Hammer giving two of the best performances of this year. The music is mainly a single piano with a few original songs throughout that are very well arranged and nice to listen to. The direction of this film was incredible, the use of colors and the camera movements all supported the story being told and every frame was beautiful to look at.
The film deals with themes of coming of age, unrequited love, discovering one's sexuality, and trusting others, especially family. The messages presented in this film are very progressive and forward thinking, it was interesting to see a town in Italy set in the past that was so liberal in how they went about life. The culture of the America that we live in today and the Italy portrayed in the film were very interesting to compare and contrast.
Overall this film is definitely not for everybody, as it is a very intimate character study with a long, drawn out romance. That being said, I thoroughly enjoyed this film and it is one of my top picks to win Best Picture this year. Anyone who enjoys films like Moonlight, Lady Bird, or The Shape of Water will also love this one. If you don't enjoy  slower paced, artsy romance stories, this movie won't change your mind on the genre. If you were interested at all in seeing Call Me By Your Name then you will definitely enjoy it and you should catch it as soon as you can.