State Retirement Reform
Caleb Buford, Messenger Reporter & Business Manager
June 12, 2018
Kentucky Senate Bills 1 and 151 have been in the news for quite some time now and students have heard all about them. These three bills are affecting the state retirement system, school system funding, and state workers such as teachers are not pleased with the laws put up for a vote in the House and Senate as seen by the recent protests at Frankfort. As a student, I was, personally, confused by what was truely going on. Hybrid cash plan? 401(k) type plan? No more cashing out sick days? There were so many changes being made the state retirement system that it was hard to keep up with. After a great deal of research & interviews, I finally came to a point of understanding of why state workers were expressing their anger.
Senate Bill 1 (SB 1) is the bill that directly affects the state retirement system. The new bill would make new teachers pay into a 401(a)-pension hybrid cash plan, a mandatory retirement plan forcing employees to pay in 9.1% and employers to pay in 8%. This will go into the traditional pension plan but also splits into a 401(a) making it a hybrid cash plan. This plan only affects new teachers who are not tenured. All teachers who are currently tenured will continue on the traditional pension plan. The hybrid cash plan is a problem because of how it is run. 401(a) money purchase plans are based on the stock market. Employees are allowed to choose which stocks they wish to invest into and hope for the best market return. The traditional pension plan guarantees that no money is lost but, with the a 401(a), a change in the stock market could result in a loss of money. Traditional pension plans guaranteed a set amount for retirement, and that guarantee is now eliminated. Along with the change in retirement plans, teachers will no longer be able to cash out their accumulated sick days throughout their educational career. On the traditional plan, unused sick days were added into a total and at retirement, those sick days were traded in for 30% of their sick day payment. Now, teachers will no longer have an incentive to not use their sick days, resulting in more costs for the school system as they pay for possibly more sick days used by teachers. Also, teachers used to have a $5,000 death benefit, but it also was eliminated in SB 1. And to round it out, teachers will have to work longer or be older before they are able to retire. The original pension plan was after you reach 27 years of service or if a teacher was 60 years old with 5 years of service. SB 1 wants teachers to retire when "reaching age 65 with five years' service or upon meeting a combined age and service requirement of 87 years with a minimum age of 57." The news has been focusing on the teachers but this cut also affects all state workers.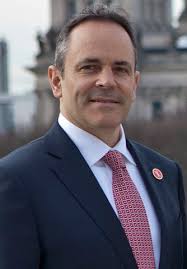 Kentucky Governor Matt Bevin argues that the system is currently failing and that state workers are throwing their pension money into "a bottomless hole." He also claims that the pension system will not be funded in 12 to 15 years if we keep the pension plan in its current state. "The system is in trouble. It's failing. It is running out of money. And it will run out of money in the lifetimes of almost every one of you that's watching this video if we don't make structural changes," stated Bevin in a video on his Facebook page.
The bill was originally stalled because there weren't enough votes to pass it. Later, legislatures placed the bill in SB 151, a provision on "wastewater services." The bill was passed through the House but was later caught by government officials. Andy Beshear, The Kentucky Education Association (KEA), and the Kentucky State Fraternal Order of Police (Kentucky State FOP) signed a lawsuit against the governor stating that the passing of the bill was illegal according to the state constitution.
The bill has caused much controversy throughout the nation. From the rallies, to the remarks, the news has been all over this situation. Teachers from around the state have staged marches and rallies across the state and at the state capitol in Frankfort, Kentucky. Along with the rallies, have been the controversial comments made by Bevin about teachers, most notably about the teacher's rally at the capitol building. "I guarantee you somewhere in Kentucky today a child was sexually assaulted that was left at home because there was nobody there to watch them," Bevin stated in an interview with Louisville's WDRB-TV. Bevin, a few days after the incident, posted a four-minute apology video. Teachers have also faced controversy as many have praised them for their willingness to stand up for what they believe in while others have ridiculed them for not being at schools during the school day.
Andy Beshear, KEA, and the Kentucky State FOP won the lawsuit and the bill was not passed. But, legislators are still fighting for the bill as its effects on the state budget are very large. The bill could still be passed in another way but, no plans have been announced yet. The bill must be passed by July 1st for it to go into effect, providing legislators plenty of time.