What do you believe?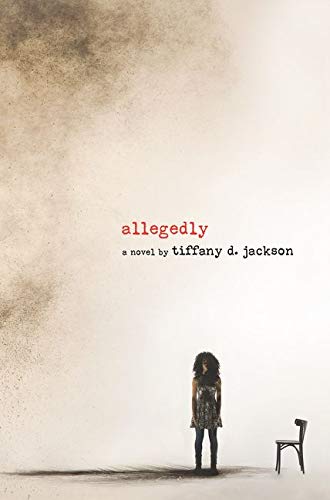 In 2017, readers of the world were captivated by the book Allegedly by Tiffany D. Jackson. Jackson has written many books in the genre of young adult fiction. Jackson will have you on the edge of your seat wanting to see what comes next. The story starts to unravel, and you just can't take your eyes off the pages. The book Allegedly is a thriller based on a teenage girl named Mary, who was convicted of murdering a 3 month old child when she was nine. She has spent the majority of her life in "baby jail." Readers will take part in Mary's life after jail and follow along while she navigates her life in  a group home. 
This book does a phenomenal job of using imagery and putting the readers into the places of the characters. Throughout the book Jackson thoroughly describes where the characters are with weather, smells, and colors. This allows the reader to picture what the setting looks like, and how the characters are feeling in the moment. In the book, Jackson also incorporates details that make the reader think one thing will happen but then something else does. 
"I absolutely loved this book and couldn't put it down. Even with a twist I thought was predictable it turned out to be the exact opposite. I can't wait to find more books from this author!" said Clara Williams. 
In her book, Jackson uses lots of suspense. There is never a time in the book where detail is unimportant; the details will always lead to what happens next in the story.  
"This book was absolutely gripping from start to finish; I couldn't put it down for the life of me. The suspense is so powerful and every little detail is important." said Emma Benhamida.  
During the story, Jackson puts the lives of others into perspective. Jackson chose the main character to be a young black girl. She shows the impacts of public opinions and the holes in the justice system when it comes to different races. Jackson makes sure to include all perspectives of the characters. Even the background characters within the community have a distinct voice. "Jackson made the character a black girl from Brooklyn so that she could explore the racial disparities in both the justice system and in the court of public opinion," said Alexandra Simon.
To end, Jackson did a wonderful job making sure the readers of her thriller, Allegedly, would be eager to continue reading page after page. Jackson uses wonderful imagery, suspense, and puts into perspective the lives of others in the justice system and to the public eye. 
"4 stars! This was an intense, gripping, and powerful read! And that ending!?!?!?…..I'm still working on picking my jaw up off the floor…" said Lindsay from Traveling Sisters Book Reviews.