Sometimes Things Aren't as They Seem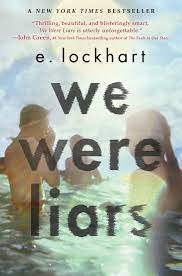 Bree Downs, Staff Writer - The Mustang Messenger
September 28, 2022
This past year, readers of the world have been immersed in the book, We Were Liars by E. Lockhart. E. Lockhart is the pen name for Emily Jenkins, an American writer of young adult and adult fiction novels, as well as children's books. Lockhart will have you never wanting to put this book down. Once the story takes place and starts to unravel, you just can't get enough. This book isn't just a thriller, but it also centers on the truth of things. The book focuses on the main character named Cadence, who suffers from a brain injury she can't remember. Every summer she went to her family's private island with her two cousins and friend. They were called The Liars. However, this past summer, her mother wouldn't let her go and made her spend the summer with her dad in Europe. A year later after convincing her mother to let her go, she realizes something's different. Everyone acts differently, and it seems like no one is around. What's so different about the island and why won't anyone tell her? 
We Were Liars sheds light on many real topics and doesn't simplify anything. Some topics discussed are family, forgiveness, hardships, and love. There are many more that have deep meanings throughout the book. The book's main purpose is to focus on the consequences of someone's actions, intentional or not, and giving a sense of realizing reality. The main character in the book views everything a certain way, but towards the end, her views shift back to reality throwing her into a spiral. 
This book was so surprising, no one would have seen it coming. The way Lockhart portrays the characters and uses details to describe the island and all the people was very enjoyable. Throughout the book, you think one thing is going to happen, but it switches and does something else. There have been many recommendations for this book throughout recent years. Many of the reviews for this book have said things like, "We Were Liars is a genuine, heart-breaking, and real tale of masqueraded families, love, friendship, grief, and decisions we wish we could take but never can."(Adhamash) "This book made me laugh and cry at the same time."(Bates), and more. 
The book uses a number of figurative language like metaphors, foreshadowing, and imagery. Some metaphors and foreshadowing from the book are "He is contemplation and enthusiasm. Ambition and strong coffee," and when she was writing to the liars from Europe. It describes in so much detail, you feel like you are inside the story. 
To end, the book We Were Liars, by E Lockhart, is a great read for anyone. Everything about the book is well thought out and well written. It has relatable topics, thrill and mystery, and a sense of realizing reality. The book states, "We are liars. We are beautiful and privileged. We are cracked and broken."