MCHS is Swishing Hoops!: The Ball's in the Girl's Court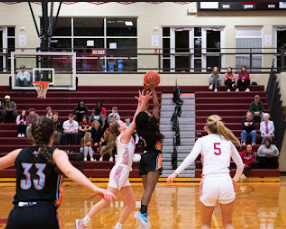 Jaiden Herzog, Staff Writer - The Mustang Messenger
December 10, 2022
It's the 2nd week of the 2022-2023 McCracken County High School basketball season, and the varsity girls team is already conquering its way to the top. The basketball season officially started on November 28th of this year and things are looking up. Morale is high, the student section is cheering, and the coaches are prepping the team.
In previous years, Coach Siviils led his team to enormous victories. In fact, last year, the girls varsity basketball team had the best season in MCHS history. Sivills even brought the girls basketball program to the state tournament, which has not been done at MCHS for the past 40 years. Unfortunately, they did not win the state championship.
With hard work and dedication, the experienced coach hopes to bring his team all the way to the top again. "I'm a very encouraging and passionate coach. I try to get the girls to give their best every game. Just 1% extra every day," Mr. Sivills remarked.
So far this year, luck has turned out. Varsity has won 4 out of 4 times: 0 losses so far. "The team is a veteran team. They read each other's body language and know each other's strengths and weaknesses. They flip a switch and it's almost like they go into beast mode," stated Coach Sivills.
Those same alien are expected tonight on the court. The varsity girls basketball team will be playing home against South Gibson at 7:30. One player, Arriannia Brison, stated, "We have unfinished business since we didn't win the state tournament last year. I hope we win it this time. This is just one game that we have to win to do that." The whole school holds its breath as game day nears. With sweat and raw effort, the McCracken County High School Varsity/ Junior varsity team will take the win home!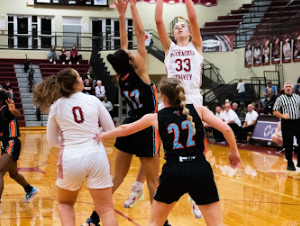 7:30 PM FRIDAY, DEC. 9 –
The game begins with an unsaid declaration of war between the Stangs and the Hornets. In the first half of the game, it seemed that the Hornets would strip the girls varsity basketball team of their current streak this season. The Stangs had other plans in mind. They played like a pack of wolves with the strength of grown men. The last period of the game- the coaches passionately screaming, the girls sweating, and the ball hit the court.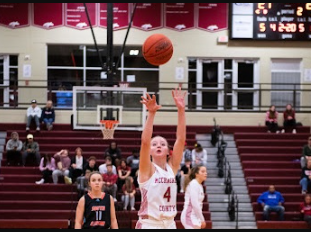 It was time to turn the tide and bring home the win. They did just that with a final score of 56-42. This year's streak goes on.