State Dinner 2022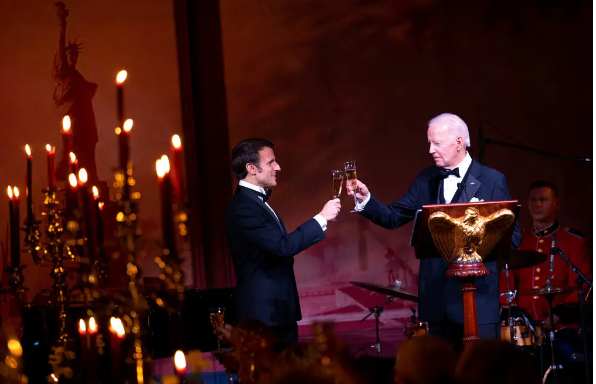 On December 1st, 2022, President Biden and French President, Emmanuel Macron, shared a State Dinner. Historically, a State Dinner is for showing friendship and kindness between a variety of people from different countries. Due to the cancellation of a deal between Australia and France back in September of 2021, France has been at odds with America. For a little background, Australia requested France to make their submarines since they did not have the equipment to do it within their own country. A 66 billion dollar contract was made between Australia and France. Australia then asked America to create submarines for them as well. This caused a riff between our country and France since we technically knew about the previous deal between France and Australia. Biden attempted reconciliation between our states and France and thankfully succeeded. Biden and Macron shared the stage and discussed prominent issues such as more sustainable energies and the war with Ukraine and Russia. 
MCHS junior, Addy Drake believes these issues to be important. "I'm glad they talked about those topics because they are becoming more important as we get older." She says.
Three hundred additional guests attended including TV/Movie stars, comedians musicians, State and Federal Officials, and military leaders. Actress Jennifer Garner, singer John Legend, and comedian Stephen Colbert were present. Lloyd Austin and Army Captain Florent Groberg represented the military. House Republican leader, Kevin McCarthy, and his mother attended as well. The first lady, Jill Biden, organized this beautiful event with a red, white, and blue theme to signify our connection with France and our sharing of values. The Executive Chef, Chris Comerford, prepared an amazing meal of lobster and beef with shallot marmalade. The Executive Pastry Chef, Susan Morrison, prepared roasted pears with crème Fraiche ice cream.