The Polar Express: Overrated or No?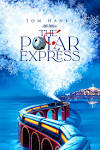 Kynadee Slife, Staff Writer - The Mustang Messenger
February 28, 2023
 'Tis the season for all things Christmas, including Christmas movies. A few classic Christmas movies are Santa Claus, Home Alone, Elf, A Charlie Brown Christmas, etc. Then there's The Polar Express. This is possibly the most overrated Christmas movie played every holiday season. There are a multitude of reasons why this movie is the most overrated during the holiday season, here are a few: the movie is too long, some elves aren't animated, and the concept of the children waking up in the middle of the night to join a handful of other children they've never met on a train to the North Pole, is scary. 
When the movie was released in 2004 it was a big hit and still is in 2022. However, there are lots of people who don't like this movie. Student at McCracken County High School states, "The plot doesn't make sense. There isn't a ball in the bell that's why he can't hear the bell ring. It isn't because he doesn't believe." The student also said, " The movie is extremely overplayed and it gets annoying, all of my teachers put it on and I don't like it." The Polar Express has been out for 18 years, but every holiday season the movie comes back more annoying than last year.