McCracken Stangettes compete at NDA Nationals
On Tuesday, February 28, the McCracken County Stangettes left for the NDA Nationals in Orlando Florida. In order for them to make it to Nationals, the team had to compete and make it through to the next round starting from KHSAA Regionals, KHSAA State, KDCO Regionals, and KDCO State. They also had to be top three in their division or score a 7.0 or above. In each of the competitions, they took home awards, titles, and trophies. The team has been practicing for this competition since the beginning of the year and has made so much progress since August. The NDA Nationals stands for the National Dance Alliance, with both high school and college dance team competitions. It is an opportunity to showcase and prove their talent as a team and as individuals. The motto for NDA is The Work Is Worth It. They want to encourage young athletes to do their best and to be empowered by their surroundings. They strive to make great athletes and better individuals. 
After asking one of the dance team members how they think the team will do, she answered, "I don't think we are necessarily focused on winning but more on doing our personal best, however, I still think we will do good." She also stated that she thinks the biggest factor that helped them get this far has been the team's mindset, and their motivation to push each other to their limits. Most of the girls on the team also dance on their own time outside of school as well, so they have a lot of experience, and getting to go to NDA Nationals is an honor and excitement. There are twelve girls on the team and the three seniors are, Megan Dallas, Lilly Spann, and Olivia Thompson. Lily Spann and Olivia Thompson have been on the team since their freshman year. With this being their last competition, it is probably a bittersweet feeling, for they have practicing and improving for four years. 
The competition is from March 3-5, and the team has been practicing and having fun since they got there. They've practiced their visualization, facial expression drills, and dances at a studio and the practice floor at the convention center. Some of their past dance awards include Jazz, Pom, and Game Day. Many people are excited for what the team will receive.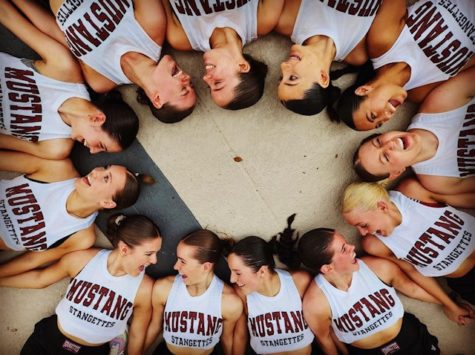 After waiting many days, the Stangettes placed 8th in the nation. They received a score of 90.3167 on Medium Game Day. Even though they didn't get first, it is still a great accomplishment that they placed in the division. The team was also chosen as the NDA "Go Be Great" 2023 winner. They competed with gratitude, purpose, and love. They were unified as a team and are happy with their outcome. Everyone is proud of how they performed and can't wait to see what they will accomplish next year.