Batter Up at MCHS
Addy Drake, Staff Writer - The Mustang Messenger
March 20, 2023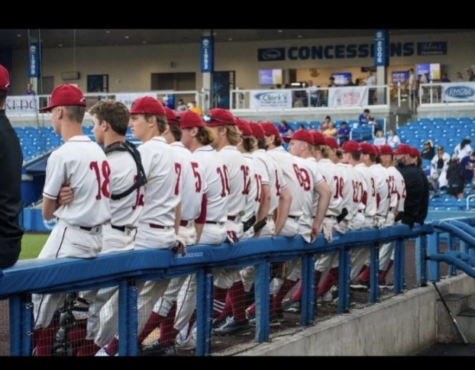 Every year at MCHS the baseball team holds its own world series. Two seniors are selected as the two team captains. Soon after, the two seniors draft their teams to play the five games. The winner has a nice hibachi dinner, while the losers have to eat hotdogs and be at the winner's service. Every year our school's baseball team tries its best to overcome last year's mistakes and grow from them. The boys on the team have shown their coaches very big improvements hoping to get past the final four this season in 2023. McCracken County is ranked second in the state and St. Xavier is first. They play each other on April fifteenth in Louisville with the hope of winning. 
Miller Green, a junior at MCHS, has been playing for McCracken since his freshman year. He plays third base. Miller says, "Self-improvement is key to growth but the team can not gain anything from self-improvement. A team is when everyone is included and working together. I think that our team does really well with that and helping each other out." He thinks that being together on the field makes a big impact on how close they are and how they perform on the field. Miller says, "This year I will continue to work on communicating while on the field to better our shot at staying ahead of the game." He said that during every practice he notices the team's improvement and can not wait for this new season. 
Zack Sims, a senior at MCHS has been playing for McCracken since his freshman year. He has been playing baseball since he was five or six. Zack claims, "The best way to grow is continuing to work when no one is watching. Since I have been a freshman I have learned that the players that play or practice outside of school practice with the team play the best on the field, better their actions, and are the quickest to learn and fix their mistakes." Zack thinks that this year he has bettered his pitching and batting both by practicing when it is baseball season and when it is not. Sims said," While we are on and off the field or games and practices one of the best things is hearing the positive and negative criticism from the team and coaches because that is when you can really see how much encouragement you get from other or how they really push us to be our best." Sim's advice to new baseball players is to not be afraid to go after something you want and to always be optimistic about new things because you will never know what will happen because of it.