Like a Dream:
"A Midsummer Night's Dream" Review
Selaney Yancey, Junior Editor
November 28, 2016
Being taken away into a world of magic is something we often crave. We, as people, love to be entranced by a story we can completely get lost in. We seek to dance among fairies, cheer on star-crossed lovers, laugh with the jester and watch the plot unfold in a realm we have the pleasure to exist in for the few hours we can. This magic is exactly what MCHS Theatre Department's production of William Shakespeare's "A Midsummer Night's Dream" provided for their audiences.
The plot follows the story of four lovers in the wood. There is Hermia and Lysander, with love so strong the only thing keeping them apart is her father, and Helena and Demetrius, with her begging for his love when he claims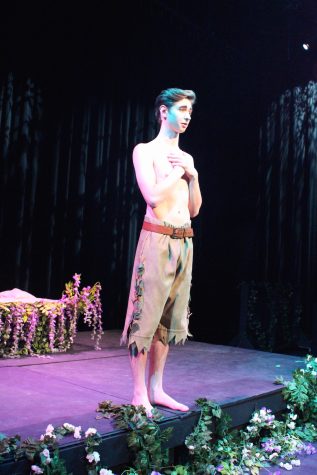 to only have eyes on Hermia, until a mischievous fairy named Puck seems to make his own plans when he is given a love potion by the fairy king to place on the eyes of his wife, for whoever's eyes the potion is placed upon, they will fall in love with the first thing they see.
This production is the theater department's fourth fall play and a true comedy, and a very different event compared to past performances in our school and our community. Going into this play was different than any other experience just purely because the text is Shakespeare, which can be seen as difficult to understand or something boring, yet this performance proved that Shakespeare is anything but that. The actors in this production performed the text in the way it was intended, with passion and an understanding of exactly what they were saying, which conveyed a perfectly clear picture for the audience. The humor was crafted to cater to the text that naturally rings with wittiness and humor, as well as adding moments of hilarity within reactions and interpretation. These moments of humor was just one of the touches that brought this production that made an old story come to a new modern life. The costuming for characters in the human side of the story had a very Spring-Awakening vibe to them, giving the production that sense of teenage truth and relatability while still capturing your eye to a new time, a different place. The set was minimal and stationary and allowed for the setting to be transformed with lighting, which contributed to the show by elevating it to that level where the story becomes the world around you.
This production did exactly what theater should do, what Shakespeare wished for all those years ago, and as any theater goer wishes for now.  It gives you a moment to forget all the bad things going on outside those auditorium walls and become part of a story, brilliantly told and felt through the same pulse, whether an audience member or a character on the stage.