Clowns Terrorizing Our Hometown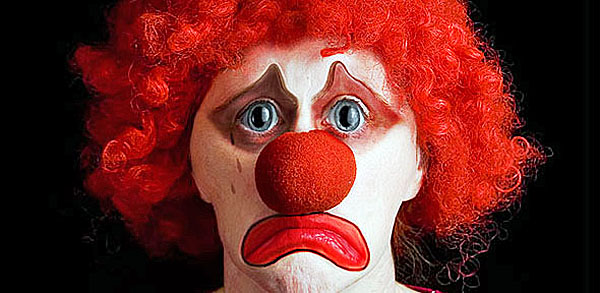 Kendel Ponchock, Messenger Reporter
October 4, 2016
October 2016
Clowns Terrorizing the United States and now Paducah
Your absolute worst nightmare has come to life- creepy clowns across the country are luring children into woods,  wielding weapons, and causing mass chaos and fear.  The first clown sighting occurred August 21st in Greenville, South Carolina when a painted clown reportedly tried to lure children into a dark brush.
After that first reported sighting, residents across the area told police of clowns flashing green lights at them, banging on doors, tempting them with money, and lingering outdoors late at night. After the Greenville sightings, clowns began mobilizing to areas like Ohio, North Carolina, Pennsylvania, and Denver.  All clown victims told the same stories as the original South Carolina residents, but these ominous clowns were now being seen lurking around elementary schools.  The clown epidemic has even spread to our little town of Paducah, Kentucky.  
Trey Pullen and Laney Yancey of our own McCracken County High School recently had their own clown sighting on Hinkleville Rd.  "It was the creepiest thing I've ever seen in real life," says Trey.  Trey and Laney were at a red light when a white Dodge Charger with green headlights and stickers all over, pulled up beside them.  
"It was very distinct," recalls Trey.  There were three men inside the car, all dressed in scary clown costumes and wielding knives. "One of the clowns pressed his knife up to the window and smiled at us before the light turned green," Laney said.  Trey and Laney quickly sped away to the interstate once the light changed colors, but the clown car followed them.  "The car wouldn't leave our side, until it decided to get in front of us… It looked like they were trying to knock our car a little."
The clown car trailed Trey on the interstate for several minutes until Laney decided to call the police.  "I did call 911 because I was terrified, but they didn't seem to take me seriously.  They did not even pretend to be concerned.  They didn't ask my location or even what the car looked like,"  said Laney. Trey and Laney took at exit and stayed at a gas station until they felt safe, since police obviously weren't concerned with their safety.  The very next day, Trey saw the same white, stickered charger on the road.  Trey and Laney suspect that the clowns were Paducah residents just trying to scare drivers on the road.  Regardless of whether that is true or not, should the police have shown interest in the situation?
Don't fear too much- these creepy clowns have yet to commit any actual crimes, most of them are just out looking for a good scare.  I repeat, no murders have occurred and no children have been kidnapped… yet. Most of these clowns simply stand on the side of roads to scare passersby driving at night.  Keep your seatbelt on kids…and watch out!