What Is The Equality Club And Why Is It The Club For You?
Rae Hobbs, Staff Writer - The Mustang Messenger
November 18, 2022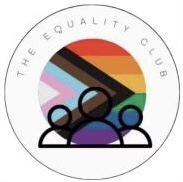 Shaliegh Darnell is the Junior Representative for The Equality Club at McCracken County High where she is, you guessed it, a junior. Shaliegh was very inviting and open to answering any questions for the club. What is The Equality Club (aka TEC Club) though, many see it as just a "gay people club, however, Shaliegh quickly expressed what TEC is truly about."TEC is not a religious belief club, it is not a "gay club", TEC is the club for people who want to be able to talk about their own beliefs and their own views and be respected. And that is exactly what they will get. There is no expectation or requirement to join TEC, the only thing we ask is that you speak your mind and respect others when they do as well. " Through further conversation, it was revealed why Shaliegh joined TEC and why she thinks that this club is separate from other diverse clubs at the school "I joined TEC because there was never a club like this when I first transferred here, Yes, there was the young democrats and the young republicans and all the other clubs for people with the same views and the same interests. There was never a club for people with different views and different beliefs and other things like that to be able to come together and talk about those things in a judgment-free and accepting environment. " In short, the TEC club acts as a safe space for students to learn about different beliefs, ways of life, and struggles that are experienced by others in both the school and the outside world.
Additionally, Shaliegh really wanted to drive how that  TEC is for everyone, no matter what race, religion, sexuality, or political group, it's all welcome as long as those participating remain respectful and open-minded to the thoughts and feelings of the other members. Other members include Denver Abell, Kory Bailey, Allison VanSickle, Alyssa Campanello, Lynn Garland, Briley Smith, Arabella Griffin, and more.  TEC is typically held in the main teacher sponsor, Mr.Trefil's classroom, although if there is a change in location members will be notified via google classroom. TEC posters are spread throughout the school, which provide a QR code that will take you to google classroom. The next meeting is on a date that is to be announced but will most likely be posted on the morning announcements. Meetings typically last from 2:20 pm until 3:30 pm, and occasionally snacks are provided. Shaliegh expressed great hope and confidence in the success of this addition to the school's list of clubs. When asked if she had any final words or statements she would like to present she expressed them with great confidence and sparkle that seemed more than sincere. "TEC welcomes anyone and everyone that is willing to accept people's differences and embrace them because not everyone is not the same but everyone is equal."