The Skinny on Skin Types

Jaiden Herzog, Staff Writer - The Mustang Messenger
March 13, 2023
Combination Skin
By Jaiden Herzog
It's Spring time, and that means mixed weather, mixed temperatures and both dry and wet days.  Just like the season, some face types can fluctuate between oily, wet, and dry.  There is a name for that particular skin type: combination skin.  It is extremely common and is treatable just like the others.  Many people think their sin is just difficult, but really they have a skin type they haven't heard much about.  Here are some tips to help with a mix of good and bad skin days!
1. Understand the "T-zone"
The T-zone, as dermatologists call it, includes the forehead, nose, and chin of the face.  If a person has combination skin,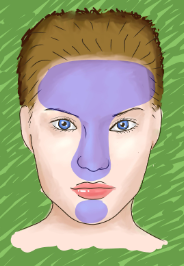 they have an excess of oil production in their T-zone.  
2. It's A Mix
Half of your face is oily and the otherhalf of it is dry.  The T-zone is oily, while the cheeks are dry.  The basis of this type is the characteristic of having 2 or more skin textures.  Combo skin means different parts of your face have different needs.  Don't sweat it, though!
3. Learn the causes
Well, genetics are the cause of combination skin, like any skin type.  While you can't change your DNA, you can manage the controllable stressors.  Nobody can help an upcoming exam or raging hormones, but you can refrain from harmful UV radiation.  Using good sunscreen meant for the face, neck, and hands is essential to not only protecting your body from age-related wrinkles but also for protecting the skin from trauma.  CocoKind Daily SPF 32 is one of the most credible and effective sunscreens for this skin type.
Diet plays a major role in the oil production of your face and acne.  
You want to stay away from greasy foods, fatty foods, junk food, and sugar.  By no means does this mean no more sugar or savory foods!  It is all about balance, and there's no harm in eating a Happy Meal every now and then.  But, if possible, refrain from eating, especially overeating, unhealthy foods every single day.  Chips every day will most definitely cause a break out and with that more oil production. 
Adding onto this, the stress that can cause inflammations of the skin can easily be diminished.  Now, it's near impossible to shut off your emotions and just not feel stress.  That's not what's in mind here.  It is healthy to feel all of your emotions- including stress.  Stress is normal, but it does contribute greatly to breakouts along with a series of o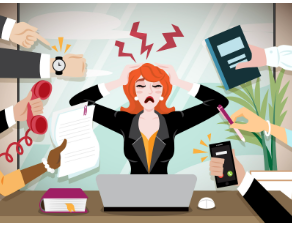 ther issues.
 Here are some actually helpful ways to reduce daily stress:
Listening to music

Talking to friends

Drawing

Journaling

Reading

Meditating

Hanging out with pets and friends

Talking it out

Drinking green tea or water

Inhaling essential oils

Walking in nature

Getting sunlight

Prayer (if you're religious)
It is extremely hard for some people to manage their stress, so, if that's you, it's recommended to reach out to a friend you rely on.  
4. Cleansing
A gentle hydrating, foaming cleanser works to remove oil in the T-zone primarily and hydrate the dry areas.  The top dermatologist recommended cleansers include CeraVe Hydrating Cream to Foam Cleanser, Neutrogena Ultra Gentle Daily Cleanser, Neutrogena Skin Balancing Purifying Gel Cleanser for severe cases, and the Youth to the People Superfood Antioxidant Cleanser for acne-prone combo skin.  All of these cleansers are trusted, credible, and gentle.  It is extremely important for the combo skin's protective barrier that the cleansers are gentle.  
Continuing, just because the skin is oily, or experiencing a particularly oily period, doesn't mean it doesn't need hydration.  Always hydrate your skin, just be sure to use a lightweight, effective, moisturizing, and oil-free cleanser.  Combination skin can vary more than other skin types.  Person A and B may have completely different types of combination skin and therefore need different skincare routines.  It is recommended for combo skinnies to wash the face in the morning upon waking up and at night before bedtime.  This both takes away the gunk from the day and the gunk from the night before.  However, it is all about balance and finding what's right for you.  If you think you only need to wash your face once: only wash it once, and so on.
5. Exfoliating
As a person with combination skin- both oily and dry- you want to exfoliate 1-2 times a week if the skin will allow it.  Exfoliating removes dead skin cells, bacteria, and circulates blood flow in the face.  It promotes radiance, clarity, and a youthful complexion.  However, it isn't for everyone and can do more damage than good for some.  
6. Makeup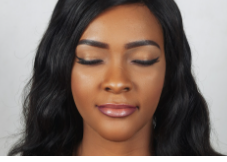 Most makeup can clog pores when it comes to all skin types.  Try using a matte or oil-free foundation and other oil-free makeup products.  The lack of oil means the pores can breathe better and will not be as prone to clog due to the makeup.  Like everything else with combo skin, keep the makeup light-weight and gentle.  "I wear makeup every day, and it causes bad breakouts every now and then.  I used to heavy makeup that kinda caked on my face, but now I use lightweight, full coverage makeup," states Laney Dillman.
7. Moisturizer
Combo skin needs to be moisturized twice a day, once in the morning and once at night (2 hours before bed time).  A pea-sized amount is recommended.  "I moisturize every other day because my face can't take too much moisture.  That's me personally though.  If I were to moisturize every day, my skin would breakout," says Falon Dowdy.
8. Tried and True
Combination skin is unmistakably unpredictable and all over the place.  It can be hard to care for all of the skin's needs when different parts of your face have differing needs.  So, you need to test out what works for you specifically and establish a routine with time.  There is no rush, no pressure, and no stress.  You will get there eventually! Your skin type may be different and seem difficult, but it's all about finding what works best for you.