Seniors on the McCracken County Co-ed cheer team are making waves in the cheerleading world.  Colleges are already taking notice of their incredible talent and potential.  With their sights set on a bright future in cheer, these seniors are ready to take their skills to the next level and make their mark in the cheerleading world, but Haley Woody specifically stands out.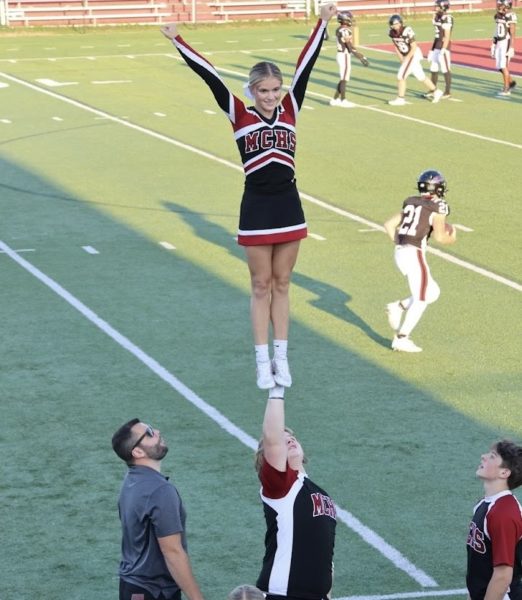 Haley Woody has been on the McCracken Co-ed team for 4 years, she says she plans to go to college in cheer, in fact, she says "I am currently committed to Purdue's Co-ed cheer program".
When asked if she had colleges looking at her already for cheer, she said that Purdue has in fact already offered her a spot on their team for next year.
Haley first got into cheer when she was 7, but she didn't start cheerleading at 7, she did gymnastics.  Gymnastics inspired her to do cheerleading, which she started in 6th grade. 
"I started to cheer in 6th grade as a hobby, but it became increasingly important to me as the years went on", she said. "I have always wanted to be a cheerleader in college, ever since I started cheering in 6th grade," Haley said when asked if it had always been in her plan to cheer in college.
Jayden Adams and Jada Bayles, who used to be cheerleaders for McCracken Co-ed inspired Haley as a cheerleader. 
"They showed me what it truly meant to be a cheerleader through their work ethic and constant drive to be better.  They were great leaders and inspired me to always push myself to be one step better than before." Haley said.
Haley Woody is ready to soar to new heights as she pursues her dreams at Purdue University!  With her passion and dedication to cheerleading, Haley is determined to make a lasting impact on the Purdue cheer team.  As she prepares for this exciting chapter in her life, Haley's unwavering commitment and impressive skill will undoubtedly lead her to success.