Mrs. Woodruff, a culinary teacher at McCracken County High School, has started a cafe where people can buy the food that her students make.  Mrs. Woodruff's students gain hands-on experience in the kitchen while also learning about entrepreneurship and customer service.  It's a unique and exciting opportunity for them to apply their culinary knowledge and see the fruits of their labor being enjoyed by others.  
When do they do the cafe you may ask, they do the cafe every once in a while.  It depends on what her classes are doing around that time because they have to make sure they are also getting all of their curriculum in.   She says she tries to do the cafe at least once a month, and if she can sell 3-4 times a month.
Mrs Woodruff says "We have to make sure we are getting our curriculum in, as well as being able to offer the students work-based experiences and entrepreneurship."
The food is mostly sold to teachers because according to Federal guidelines, they are not supposed to sell students anything made in the cafeteria, or would not make the students eat breakfast or lunch at the school.
Mrs. Woodruff says "We could sell the food in 6th period to students, which is after lunch, but we can sell to teachers any time of the day."
The cafe's most popular items are the themed meals that are prepared, which include the derby meal, and the meal around Halloween time, and those are some of the most popular items around the year.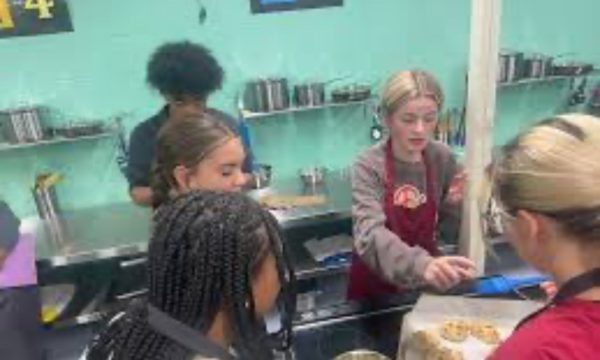 When asked what type of food they sell Mrs Woodruff says "We sell lunches, so we might sell things such as soups and sandwiches, or pasta with salad and things like that."  She also says "But we also sell baked goods, last year we started a coffee shop, and we are trying to continue that this year as well."
Mrs. Woodruff says the best thing about the cafe is it allows students an opportunity to have a work-based experience in the food industry even if they do not have a job outside of the school day in the food industry.  
 "When we are able to produce the food, sell the food, get feedback on the food, serve the food, all of that, it gives students experience in the food industry that they might not have outside." Mrs. Woodruff says.
The cafe Mrs. Woodruff provides gives all her students a chance to learn about entrepreneurship firsthand.  They get to see how a business operates, from managing inventory to providing excellent customer service.  It is a fantastic opportunity for the students to develop their entrepreneurial skills and learn about the ins and outs of running a successful venture.  Mrs. Woodruffs' Cafe truly prepares students for the real world and opens their eyes to the possibilities of entrepreneurship.