1 Down, 1 To Go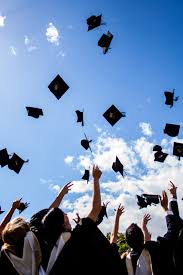 Whitney Herring, Messenger Reporter
January 25, 2017
January 2017
It's the last semester of high school for seniors across the nation. During this semester, senioritis hits hard. According to Urban Dictionary, senioritis is a crippling disease that strikes seniors, it features a lack of studying, repeated absences, and a dismissive attitude. The only cure for this is graduation. This is the moment when seniors are free from the world they've known for so long, but are thrown into the world of tuition, dorms, and adulthood.
Seniors are struggling to make their last semester of high school count for something. They want to leave a legacy, they want to be known for something before they step out of their high school for the very last time. There are 5 ways to make your last semester of high school worth remembering.
Connect with your teachers: High school teachers have been there for you since you were a tiny, awkward freshmen. They have been there through your great moments and your bad moments. If you connect with your teachers, you can go back, visit, and have a great relationship with them.

Get to know your classmates: There is always room for more friends even if you're comfortable with the group of friends you have. Get to know classmates you may not have known/had the chance to talk to last semester. Take the time to talk to other classmates before you leave for good.

Forget the drama: High school is filled with unnecessary drama that is never worth it in the end. Don't participate in the drama and allow yourself to have a stress free, drama free last semester.

Step outside your comfort zone: This is the perfect time to do things you wouldn't normally do. Go to social events, try out for a theater production, and make the most of it. This is the time to try new activities and find out what you like and don't like. This is a time to discover more about yourself.

Go to prom: Whether you go with a date or with a group of friends, go. You'll regret not going in the end. It's one night that you get the chance to dress up, go out to eat, and have fun. Prom is a once in a lifetime opportunity.
Most seniors are ready to get out of high school as soon as senior year starts, but make sure you live it up. Senior year only lasts so long, so make sure and do everything you can to make it the best year yet. Senior year will come and go. Make the most of it.