"The Elbow Queen is Done"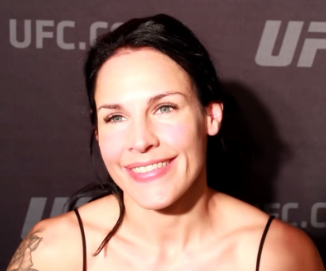 Lina Lansberg, also known as "The Elbow Queen," has announced that she will be retiring on February 20th, 2023. Lina announced her decision on social media following a second-round submission defeat to Mayra Bueno Silva at UFC Fight Night on Saturday. Lansberg went 10-8 over the course of a career that began in 2012. She posted on her social media: Instagram, and Facebook saying, "Thank you so much for all the love and support. This has been a heck of a ride and to start fighting is the best thing I've ever done," she wrote. "It has given me so much. But now it's time to move on, I'm done." Her retirement announcement on Instagram was graced by the comments by a lot of MMA fighters including Miesha Tate.
             Lansberg began her MMA tenure with victories in six of her first seven outings. She debuted in the Octagon with a second-round TKO loss to Cristiane Justino in a 140-pound catchweight in the UFC Fight Night main event. She is most notable for her time in the Ultimate Fighting Championship. As of February 21, 2023, she is #14 in the UFC women's bantamweight rankings.
          Lansberg started training in Muay Thai in 2003, at the age of 21. During her Muay Thai career, she fought on the biggest stage, winning the gold medal at the IFMA World Championship two times in 2008 and 2012. She then won the silver medal two times in 2010 and 2011, and bronze once in 2007. She also won the gold medal at the IFMA-EMF European Muay Thai Championships in 2013, and the bronze medal in 2012. Lansberg made her UFC debut, as a big underdog, in the main event against Cris Cyborg on September 24, 2016, at UFC Fight Night. She lost the fight by TKO in the second round. 
          Lina was first expected to face Veronica Macedo on March 18, 2017, at UFC Fight Night 107. However, Macedo later had to quit the match due to injury. Lansberg instead had a rematch with Lucie Pudilova at the same event. It was a back-and-forth fight, with Lansberg appearing to be in control over the first two rounds and Pudilova rallying for a comeback in the third, in the end Lansberg won. Afterwards, she stated that she was disappointed with her performance, saying she believed that Pudilova maybe should have been awarded the victory. Fans are still upset that she chose to retire, some fans even blamed it on other MMA wrestlers that she has been in matches with. They mainly blamed it on Pudilova and said that Pudilova was the one who made Lina feel like she didn't deserve to win which led her to choosing retirement. After two years away from competing due to giving birth, Lina wrestled Pannie Kianzad in April 2022 at UFC and lost the fight. Grace Samples, a Senior in journalism stated, "I think that Lina was a good wrestler, and she shouldn't just give that up because she lost a few times. Her dream was to become a wrestler, and she just threw it away because she didn't believe in herself to keep going, which is kind of sad."