Student Government Association is a leadership organization where students learn to take action within their school. McCracken's SGA has dozens of members, and this Thursday, they all went to A-Maize-Ing Farms in Mayfield, Kentucky for a field trip. 
At around 9:00 AM on Thursday morning, SGA members met up with Ms. Shidal and Ms. Wooten near the House 1 and 2 doors. Soon after, two buses were on their way to the largest corn maze in Kentucky.
A-Maize-Ing Farms is a farm with three corn mazes of different levels of difficulty. Their themed maze, which changes every year, was Jurassic Park. They also have inflatables and mums and pumpkins for sale.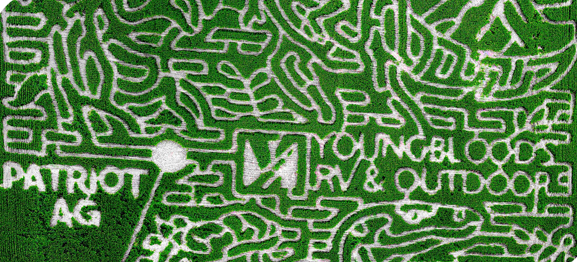 After a brief photoshoot, students were allowed to get into teams and tackle the mazes. These teams varied in size, with some being as small as two and some as large as nine. There were twenty checkpoints in the mazes, each with a hole puncher to punch the maps given to students.
One team decided to tackle both the Patriot Ag maze and the Jurassic Park maze, taking them at least an hour and a half to complete.
Even though these mazes were clearly outlined in the maps, the employees did not expect people to be able to conquer them. One of the signs near the entrance of the mazes read "Expert [Maze] : You will definitely get lost."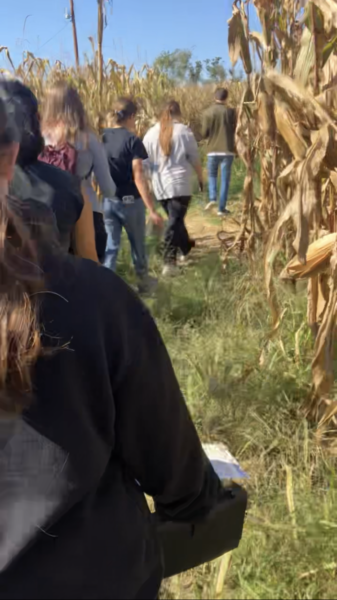 Despite these difficulties, each team managed to get through at least one of the three mazes. Afterwards, students ate lunch, with some choosing to bounce on the "bubble" offered to everyone at the farm.
SGA members had a meeting shortly after, where they discussed the dress-up days for basketball homecoming and a possible fundraiser next semester.
There was a brief icebreaker activity before students got back on the buses. 
When asked about the field trip, Eden Bridge-Hayes, a junior and new member of Student Government said, "I thought it was fun."
"We did the intense [maze] first, so it was a little stressful, and the heat was starting to get to people, but we finished it, 'cause teamwork makes the dream work," she later said.
The trip was intended as a team-building exercise, and hopefully, our Student Government members will be able to work together for the betterment of the school.