MCHS History Teacher Considered Local Celebrity By Students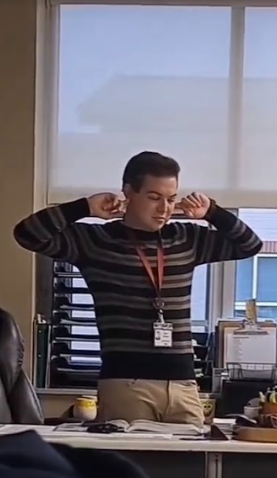 If you often find yourself aimlessly scrolling through Instagram, then chances are that you have stumbled across fan accounts dedicated to the greatly admired social studies teacher, Mr. Williams. Perhaps you have even seen people wearing fan merchandise of him. He has a great number of fans due to how he engages with his students, how he has a passion for history, and his sarcastic humor. If you are not in any of his classes, you may find it peculiar that so many students appreciate his teaching methods. He strives to get every student invested in social studies and he teaches in a way that is easy for everyone to understand. Many people consider him to be one of the best teachers at MCHS.
From a very young age, Mr. Williams knew that he wanted to become a teacher. He recalls how his grandma would tell him stories about how he would go up to her saying that he wanted to grow up to become a teacher. "As most kids do, I changed my mind about what I wanted to be when I grew up several times. I finally decided I wanted to be a teacher for sure when I was in 6th grade. My language arts teacher asked me to do a presentation on persuasive techniques for the 5th-grade class, so I put something together and went into the 5th-grade class to do it. I don't remember being nervous about it at all. At the end of the presentation, my former 5th-grade teacher asked me if I wanted to be a teacher someday. I told her that I hadn't really thought about it, but I remember her telling me how good I would be at it. This same experience happened to me in high school when I did another presentation for my foods and nutrition class. My teacher told me that she could definitely see me becoming a teacher someday. Since I had some very influential social studies teachers in high school, I became very interested in my social studies classes. That's when I decided to go into teaching social studies. It was the area in high school where I excelled the most. I also have had the privilege of working with all three of my high school social studies teachers, two of which actually work with me here at MCHS," Mr. Williams stated. He went on to graduate from Murray State University with a B.A. in history and a teaching certification in social studies after only three years because he was able to take many AP and dual credit courses in high school. Currently, Mr. Williams teaches AP human geography, AP macroeconomics, AP microeconomics, and human government & geography. He decided to teach high school social studies after taking AP European History as a freshman. His high school social studies teachers were very influential on his life and they inspired him to become the social studies teacher that he is today. There is not a single doubt that he genuinely cares about the subjects that he teaches. In his classroom, you can really feel that he cares about his students and he wants everyone to succeed. "My students often think that they annoy me with certain things because of the look on my face. It's not always true. Sometimes that's just my face. One thing I hate is when students complain to me about their grades or tell me how they don't understand and then choose not to listen or participate in class. Students have to realize that their teachers are putting in the work to make sure their students can learn in the best way possible. It's up to students to hold up their end of the deal and put the work into making sure they understand." He has significantly improved since his first year of teaching. Through learning how to adapt his teaching style and methods during the pandemic, he was able to discover many different ways to teach the material. He made many instructional videos and created many new digital resources that he still uses in his classes today. Through his teaching Mr. Williams wants to inspire people as he believes that social studies is important as it gives you a profound overview of the world's traditions and systems. "We learn to be better citizens of our country and our world with what we learn in social studies. I find something useful in everything I teach and try to relate that to what I know my students need in their own lives and in their futures," He declares. The classes that he teaches are all beneficial for students. He specifically recommends students to take AP macroeconomics and AP microeconomics because he claims that understanding how economics works is a vital skill for being a better consumer in an increasingly globalizing world. Mr. Williams considers it to be a problem that many Americans are not well-educated in geography. Most people think that geography is just learning where things are on a map, but it is much more. "It is the process of how people interact with their environments and create cultural systems to organize the world. That is important for everyone to understand. Geography really is the study of how the world works. A lot of the focus in education is put on subjects such as math or reading. Many students never receive any instruction in social studies until about the 4th or 5th grade. Much of that changes at the high school level and social studies is viewed as equally important compared to other core classes. Those who don't see it that way should remember how much students learn about their own lives and about preparing for their futures through social studies classes," he explains. During class, Mr. Williams will let the class have open discussions over each chapter during notes where he will explain any questions and analyze important details of the historical aspects. He makes sure that his students are fully engaged and never confused.
In the end, it is no mystery why Mr. Williams is a popular teacher. He has a passion for teaching his subjects and his classroom is a wonderful and humorous environment to be in. He gets his students to laugh and become invested in social studies. Many students struggle to be in advanced classes, but Mr. Williams makes sure that his students have fun while learning. Even after years his former students still recall how much they enjoyed having Mr. Williams as a teacher. "I love what I do and I really believe being a teacher is my life's purpose. I went into this profession to make a positive impact on kids and I hope my students would say that I do that everyday. Anybody in any job will tell you that you may not like going to work every day, but if you love what you do the good days happen far more often than the bad. Every day is not easy, but every day is worth it." Mr. Williams is exactly the type of social studies teacher this school needs. He actually cares about his job as a lifestyle rather than just a way to earn money. He cares about his students and he tries to get each individual student to engage in class discussions. If it weren't for Mr. Williams, then many students wouldn't care about history or geography as much as they do in his classes. Mr. Williams isn't just a social studies teacher, he is teaching his students how to navigate the world around them.