The Voice 2023: The Judges Are in the Court
It's 2023, and McCracken County High School's The Voice competition has already begun with captivating voices. The coaches this year include Mr. Trefil, Mrs. Wright, Mrs. Bobo, and Mrs. Shidel. This year's hosts are Gavin Smith and last year's winner, Miss Zoie Lamar.
The Blind Auditions were held on December 9th, 2022, during students' 5th block classes. It lasted from 11:45 am to 1:10 pm. During those 85 minutes, the student body was introduced to the melodious sound of each contestants' voices. The coaches proceeded to choose their team players. "It's so much fun to hear everyone. I didn't know people in my class could sing like that. I don't want to miss a single time. I'm showing up early on Friday to buy my ticket before they sell out," stated student Willow Burkholder about the competition in general.
The Voice has had a history at McCracken, originating from its 7th year of existence in 2019. Since then, it has been inspiring the vocally talented students of MCHS to share their talent and even pursue singing as a career if they chose to do so. It follows the same outline as the real life competition.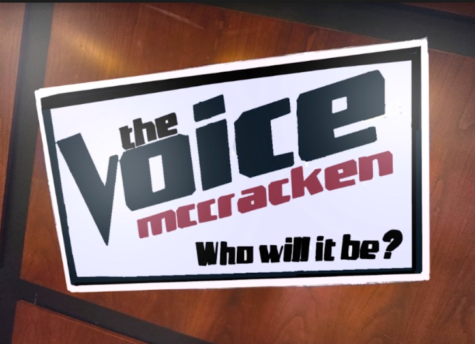 The first round of elimination will be held on January 20th during 5th block once again. Coaches will once more hear each contestant's voice, and from there, they will decide who will make it to the next round and who will not. Tickets have already been sold out as is usual when they go on sale. "It was like Black Friday trying to get my ticket. So many people were lined up at the chance the library still had tickets to sell," remarked 9th grader Delaney Green about this past Friday's sale. The Mustang Messenger hopes that everyones' ears and hearts are touched once more this Friday in the auditorium. May the best singer win!